July 24, 2022 - Twenty years a foreigner in Croatia. Part 14 of 20 Ways Croatia Changed Me in 20 Years - one of the most emotive topics in Croatia, Vukovar.
I am a firm believer that even if you live for 20 years in a country, you will never understand it fully, and there are some topics that you will never have enough authority to write about. Things are so often not the way they seem on the surface, and a critical local audience (and Boy, how quickly I am reminded when I get something wrong...) will always have some insights or historical knowledge that you do not. It is one of the reasons that I never wrote about Agrokor and do so rarely about Croatian politics. And there are some topics which are not only too complicated, but also almost taboo, including one of the most painful in Croatia's recent history.
Vukovar.
I decided a long time ago that I would not write about Vukovar. What could I possibly say with my lack of knowledge on an emotive subject that lives with this young nation even after 30 years? One of the most impressive sights in Croatia each year can be seen all over the country on the November 18 anniversary of the Fall of Vukovar after a brutal 87-day siege by the Serbs in 1991. It was the most shelled city in Europe since the Second World War, at least until Mr. Putin decided to try and change the narrative in Ukraine on February 24.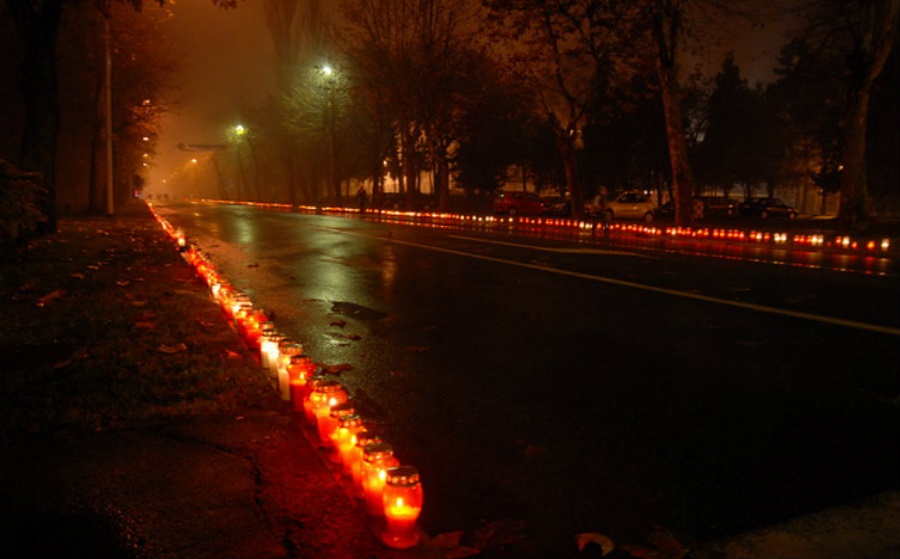 Every year, every Vukovar Street in the country (and any reasonably-sized town has one) is lined with candles of remembrance on either side. Some Vukovar streets are quite small; others, such as in Zagreb, are major arteries. They are all lit up the length of the street, without exception. A powerful memory and tribute.
My only involvement in Vukovar initially was as a father, making sure the kids lit their candle on the main square each year. And it was because of my kids that I finally wrote something about Vukovar after many years of silence.
Because I was angry. So angry.
When my daughter was in first grade, she came into our bedroom about 6 in the morning. She was shaking and had tears in her eyes. Shocked, I took her in my arms, covered her and hugged her tightly, helping her to calm down. What could possibly have happened?
"I think I had my first nightmare, Daddy."
How could that be? She lived on a beautiful island, everything was safe, her loving grandparents below doting on her daily. What could possibly have caused a nghtmare? I didn't pry, but tried to think; the date was November 19, the day after the Vukovar anniversary.
"Were they talking about Vukovar at school? What did they tell you?"
"Yes, Daddy, it is horrible. The Serbs came with tanks and they destroyed everything, and then they took an old man and put him on this thing, and then stretched his body, and then they put cigarettes out in his eyes." And she cried again.
Seven years old.
She then told me about the homework, and later went to show me hers.
"Some of my friends drew dead bodies, Daddy, but the teacher told them that they should not draw dead bodies."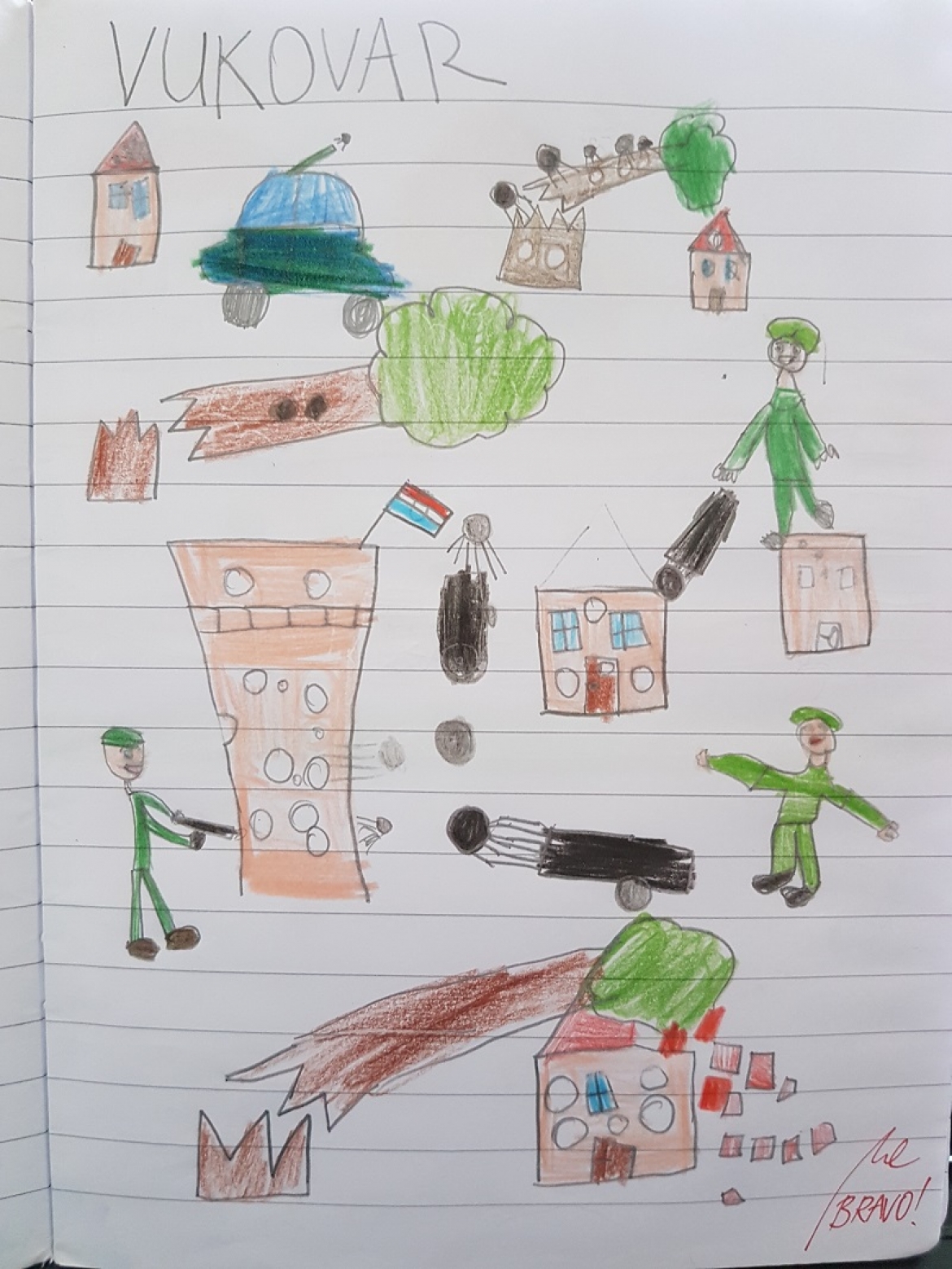 Here is her homework, the work of a 7-year-old previously innocent child. Note the 'Bravo!'
What kind of society was this that believed in perpetuating the hatred, even if it meant giving your own grandkids their first nightmares? I was so angry that I wrote about Vukovar for the first time: Is It Really Necessary to Poison the Minds of the Next Generation?
Having touched a sensitive topic, I was expecting quite a backlash, but none came. Only messages of shock, and of thanks for raising the topic. It is a topic where a lot is usually left unsaid.
Curious about how Croatian education approaches such a topic, I interviewed a primary school teacher on the crisis in education, and I asked her some questions about how Vukovar is taught in schools.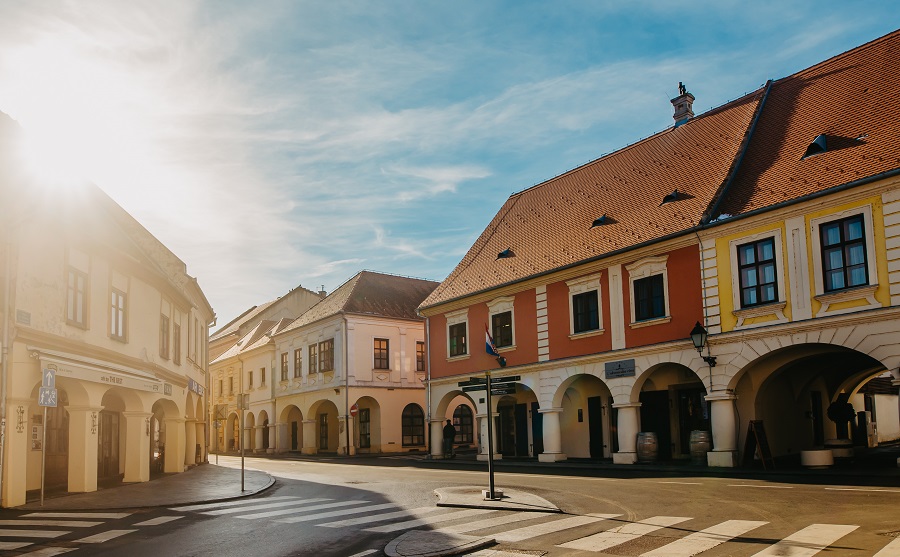 (Vukovar today)
4. Croatia's recent painful history is still very raw, and you yourself had a very turbulent childhood, growing up during the Homeland War. It is a very delicate subject that is hard to handle. How is the subject of Vukovar handled, for example, and what help do teachers get to deal with such a difficult and emotional topic?
I have been working in primary school for three years and I have found it very difficult to represent the Vukovar tragedy in an appropriate way. What should I say to children? I decided to tell them my story as it was the best way for me to deal with it: I was seven when the Homeland War started. Thank God, we lived in a safe place, however we watched television, we grew up watching dead people covered in blood on the news, we heard the fierce voice of Siniša Glavašević only a few days before the fall of Vukovar, we met lots of refugees who were our school colleagues in the early 1990s, frightened, silent, with pure horror in their eyes. We were taught not to ask them about anything. Who knows how they managed to escape from that hell in Vukovar, Sarajevo, Bugojno…Yet, in all that hell and fear my parents never taught me to hate anyone and that you always have to be kind to everyone, no matter what. I used to listen to children who are maybe now 12,13 years old, which means they were born way many years after the war, and they talk with such a hatred about Serbs and the Homeland War. And you know that they heard that from their parents. That is a shame and a pity. Talking about the Homeland War, we have to teach about dialogue, forgiveness, piety and kindness. That is one way to build peace in our society.
5. By law, school children have to visit Vukovar at least once at the age of 14. What are your thoughts on this, and do you think it is an important lesson perhaps better saved for later in a child's education?
I used to compare Vukovar with Auschwitz. Once the largest concentration camp in Europe, Auschwitz is the most depressing place I have been to. Time stopped there: small grey houses, grey trees, an empty and deserted railway, it seems that the whole place is still covered in the ash of dead people. The same feeling I had had in Vukovar. I was only there once, in 2002, and our bus stopped two miles before Vukovar. The reason was there was demining going on. Upon arrival we saw the new market place in the very centre. We were told that there is a mass grave under the concrete floor. However, one could see that the town had begun to change, to rebuild its life and to try to move on. From that time on I have constantly thought that this country will not let Vukovar heal its wounds, to keep its head up and to meet its happy days. We teach our children that Vukovar is a place of tragedy and horror and not a place of hope. It all depends on which message one can bring from Vukovar - if you remember Vukovar only once a year, in November, for you Vukovar is a sad place. If you, for example, buy Borovo and Starstar shoes, you believe in normal life in Vukovar. I advise children to love Vukovar, to consider that town as a place where life went on in a tough but a beautiful way, step by step.

(Vukovar today)
Education and Vukovar is an emotive topic, with Serb and Croat children still in separate classes 30 years on. In what was one of the best articles on TCN this year, our Vukovar correspondent Katarina Andjelkovic wrote a brilliant piece on how Serbs and Croats approach teaching history on this very delicate subject. If you are interested in the topic, I highly recommend History of Vukovar or History in Vukovar? No, Our Future Please.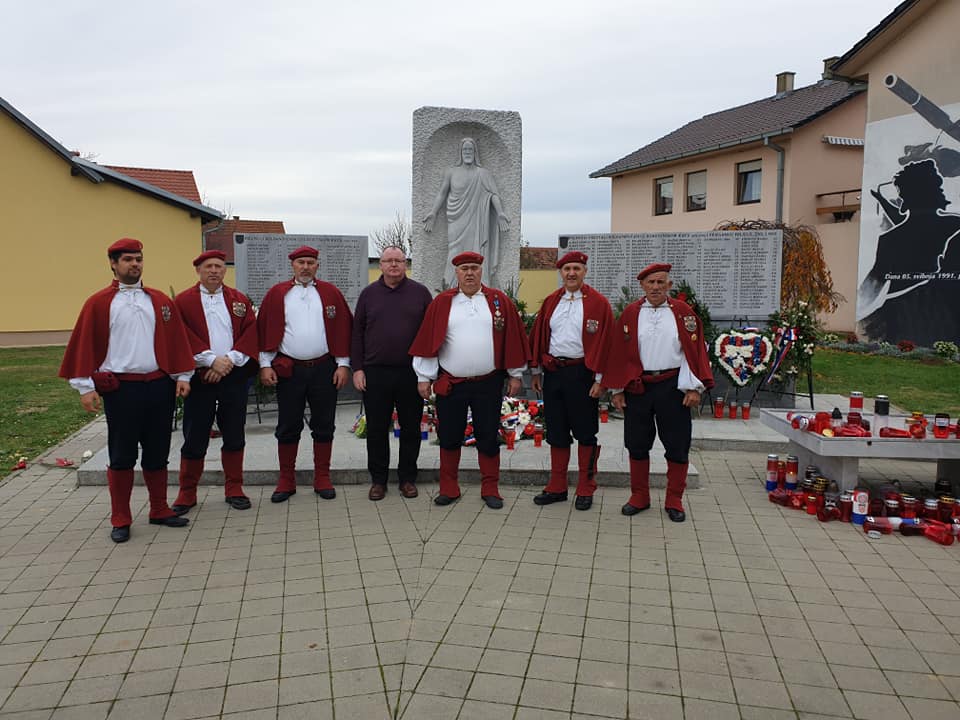 Three years ago, I got a phone call from the Prime Minister's former Communications Director, Kreso Macan, a good friend:
"Hey Fat Blogger, if you want to get to know all of Croatia, you should really see the Vukovar Remembrance Day Parade. It is quite something. I will be walking with the Dubrovacki Trombunjeri, and you are welcome to spend the day with us."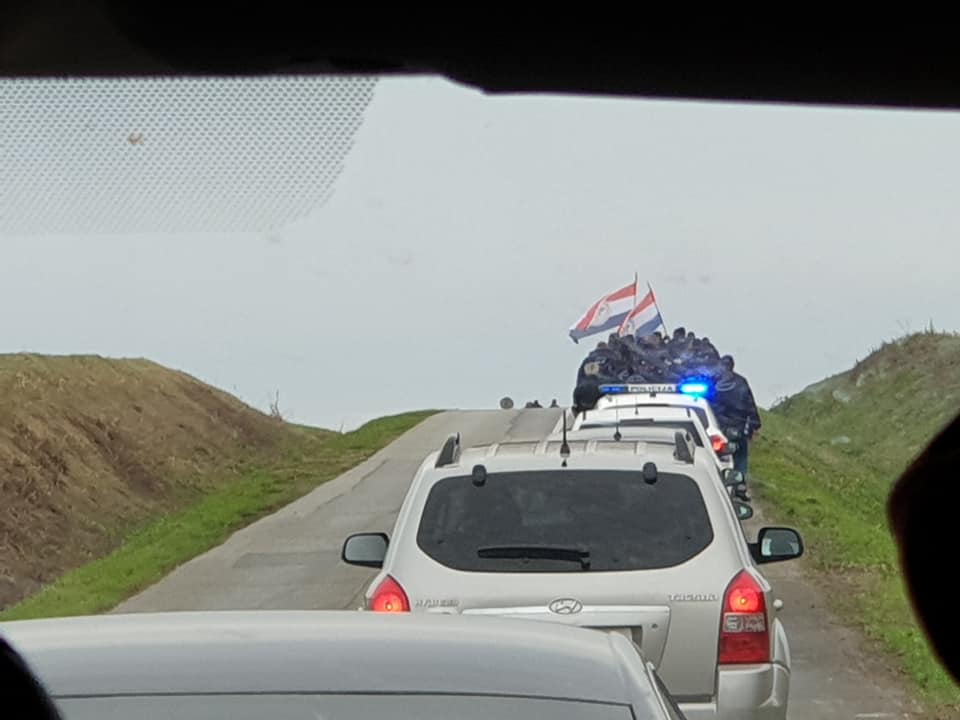 And what a day it turned out to be.
I was initially a little hesitant. Again, who was I as a foreigner to write about such a sensitive subject? But when I searched online, I found that nobody had written a detailed account of the day in English, and so I decided to go and document the day in depth. You can read that report in full at Vukovar Remembrance Day Through the Eyes of a Foreign Resident.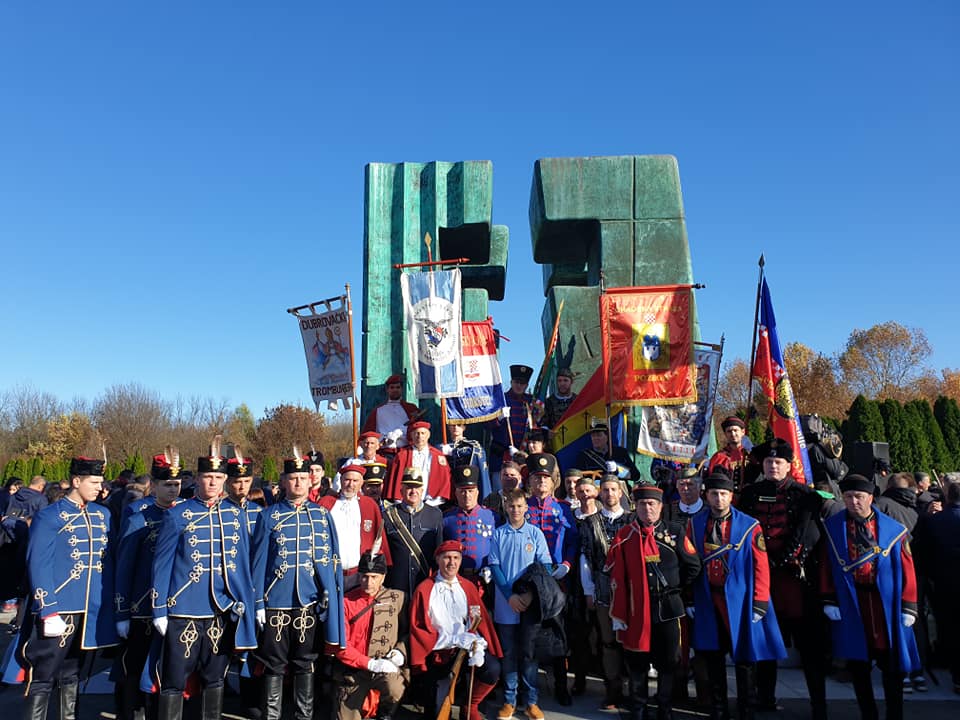 It was harrowing, particularly the tour of the hospital which performed miracles during the siege, before everyone was taken away and murdered after the surrender. So many people, so many faces of anguish. The looks on the faces of the people at the most emotional moment, the playing of the national anthem and one minute's silence before the 6 km walk to the cemetery.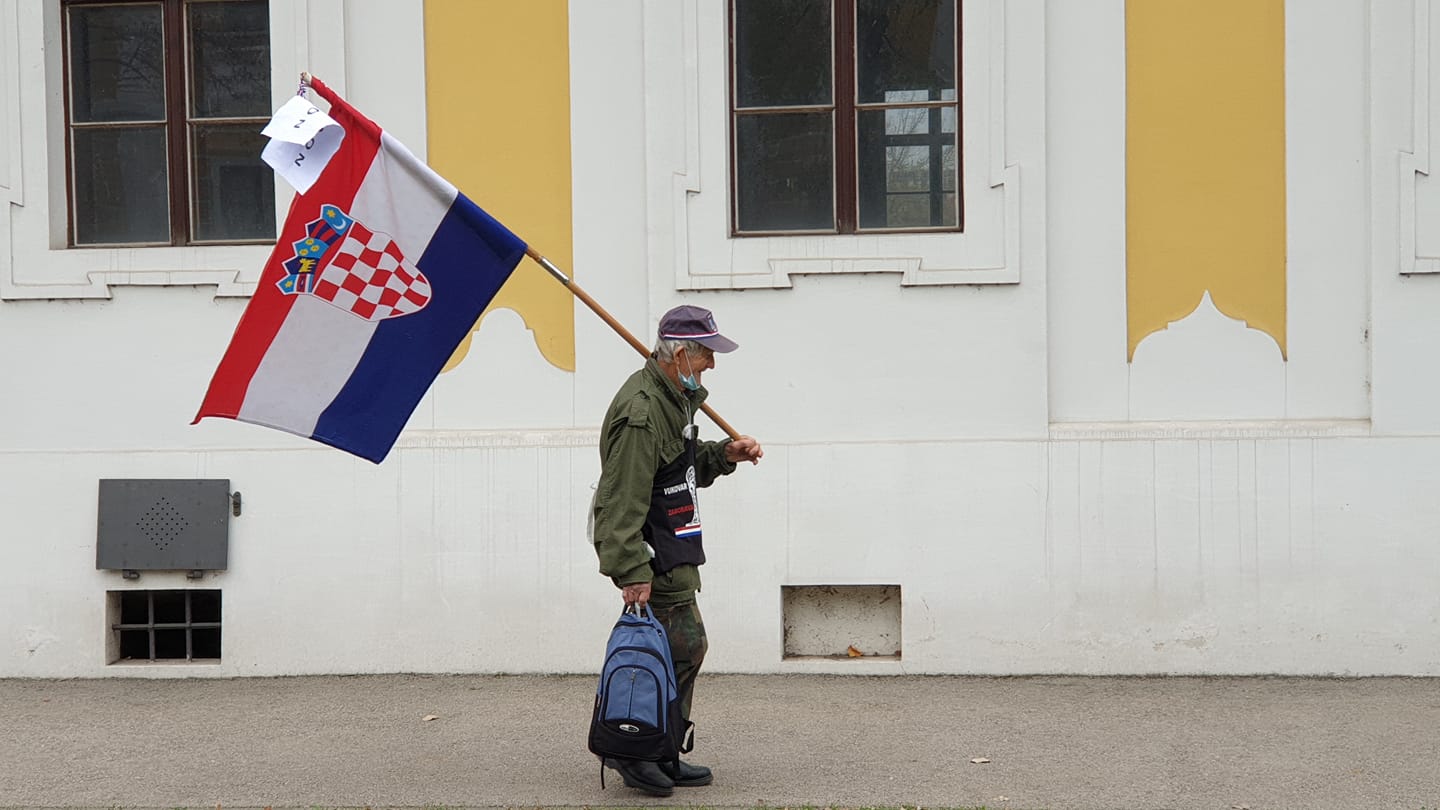 Haunting.
But what I noticed more was the hypocrisy of the politicians, who were jockeying for position and political capital for the most poignant message and photo opportunity. Were they here to remember the victims of Vukovar or for their own purposes? Talking to local peeoplee was very informative - yes, they were happy people came to remember, but they also had come to learn and accept that Vukovar simply did not exist in the minds of politicians for 364 days of the year.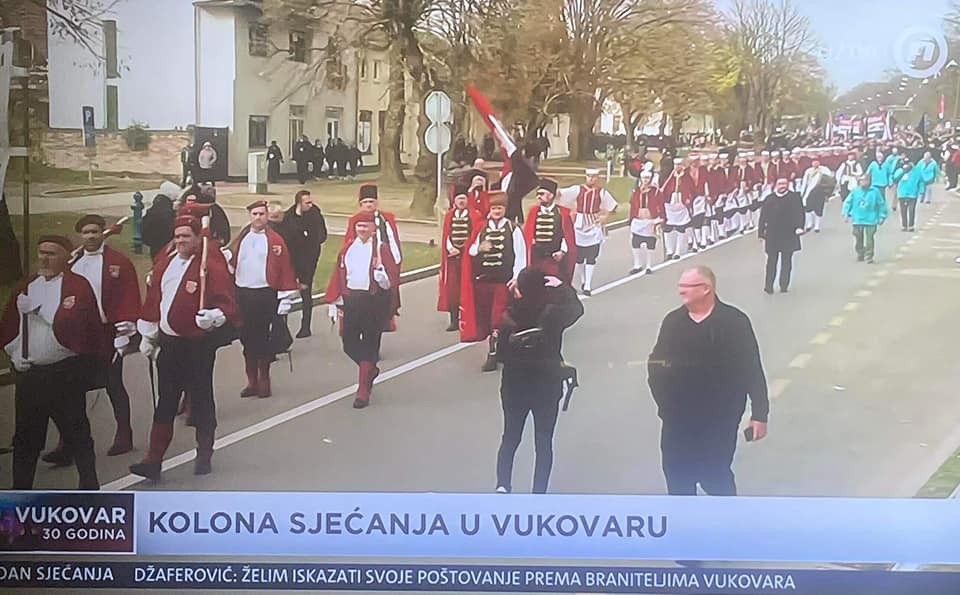 "Who will come tomorrow? In March or September? To sit with us and understand how we live, what our needs are? Nobody, we are a one-day destination, and nobody cares about us in the east," explained one.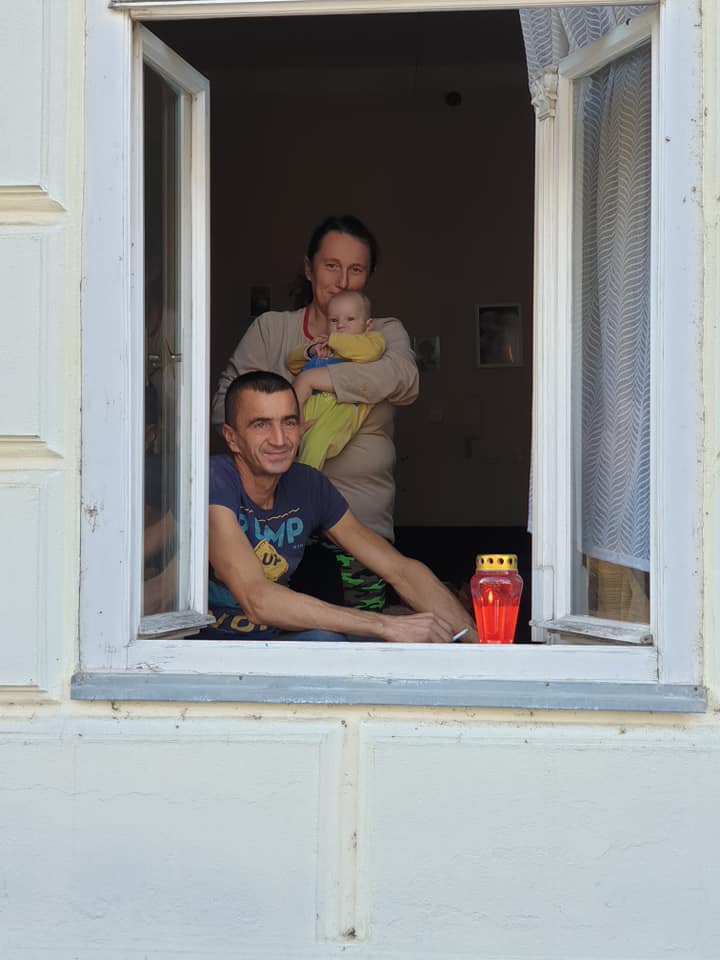 These two photos, taken with permission, were the most striking of the day, and they are embedded in my head, even today, three years later. The family was watching the parade past the front of their house in the old town. When the boy entered with such joy - SOMETHING was happening in Vukovar - his smile was in such contrast to the resignation of his parents who were used to the disappointment and reality. What would those day-trip politicians do to ensure that happiness and innocence could continue in that young boy?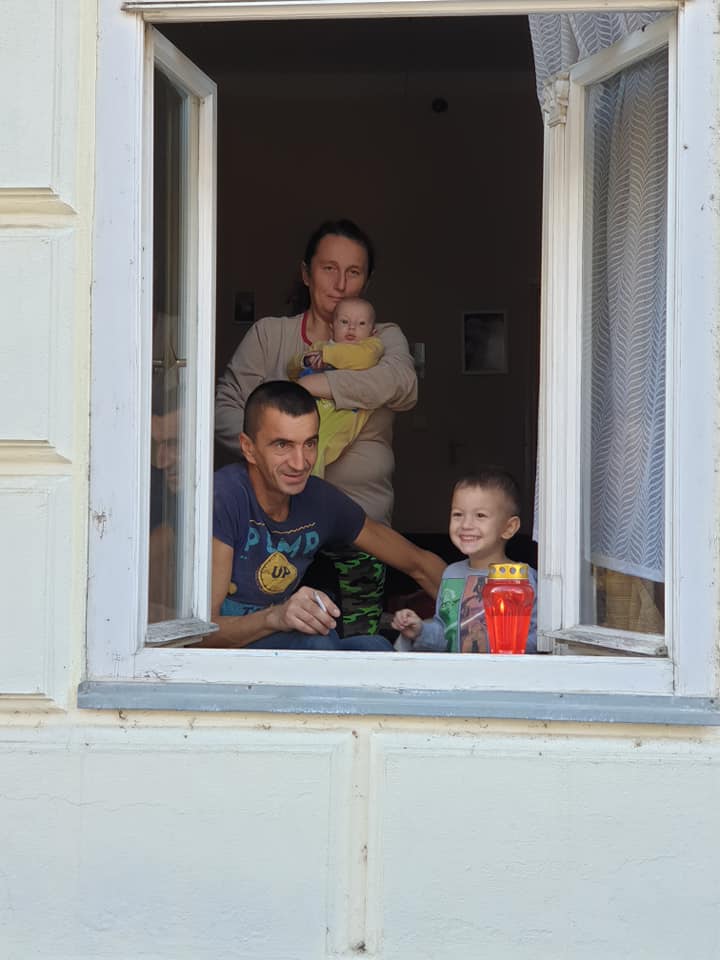 The emotional day ended in what was arguably one of the most unusual evenings of my 20 years in Croatia. I had come across a rather unusual Yorkshireman called Steve, who lived in Vinkovci and had been here since turning up as a volunteer to fight the Serbs in 1991. Among his many great achievements in life was opening an authentic English pub called The White Boar in a field literally in the middle of nowhere in eastern Croatia. It has fast become one of my favourite spots in Croatia, but the party on November 18 is rather unusual indeed, for Steve hosts all the foreign volunteers who fought for a rather good barbecue.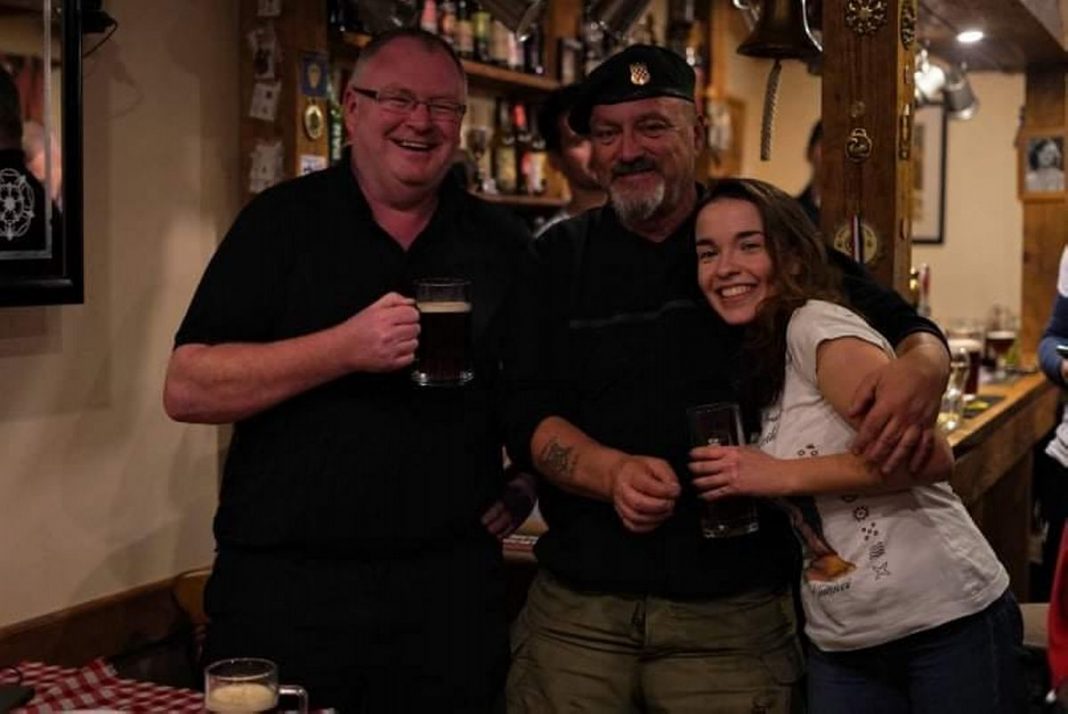 It was an extraordinary evening, which you can read about in After Vukovar, Foreign Veterans Gather in English Pub Near Vinkovci.
"You are the first foreigner who lives here that I have met who didn't fight in the war," said Steve over a welcome beer.
"And you are the first I have met who did fight in the war," I replied.
Interesting - almost 50 years of combined living experience between us, and our lives barely touched the same spheres. I decided there and then to change my focus from the coast and do more about eastern Croatia. I found Steve's world fascinating (please don't tell him, as he will only become cocky), and I recently profiled him as the most contented man in Croatia. Meet Croatia's Most Contented Man: a Dour Yorkshireman in Vinkovci.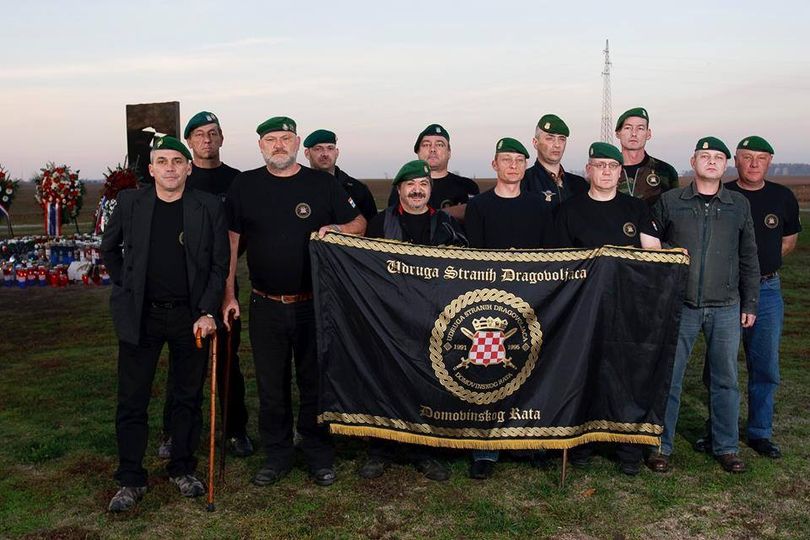 (Some of the foreign volunteers)
Far from being a depressing region, I found the people I met in Vukovar and Slavonia to be warm, welcoming and looking forward, not back. The picture on the ground was far different to the one portrayed in the media. And Vukovar, and the whole of the east, is truly beautiful. How to capture that magic and start informing people?
I invited an American digital nomad videographer, Steve Tsentserensky, to visit the east for 6 days, from Ilok to Baranja, including November 18, to show him (and through his lens, a wider audience) just what they were missing. The 2021 parade - the 30th anniversary - was much more celebratory, as well as being much bigger (around 50,000 walked). COVID had meant that this was the first reunion for all, and I had a much more positive experience, especially as I spent the time mostly with local people from Vukovar.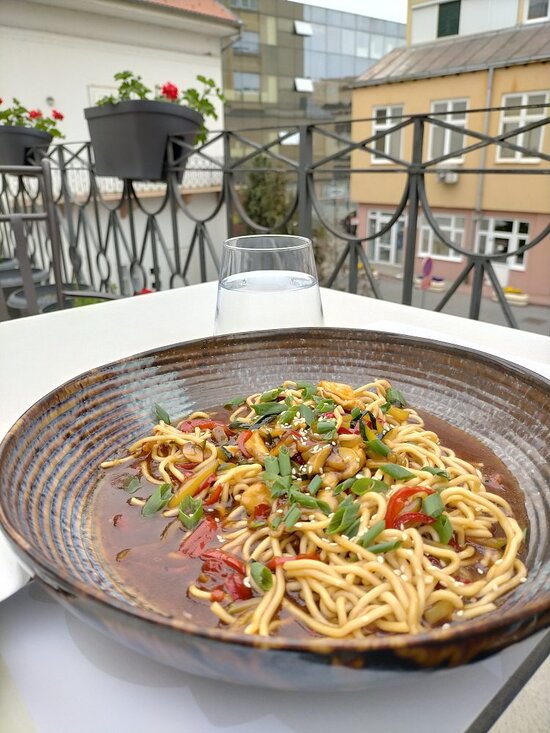 (Vukovar today - delicious vegetarian wok noodles at Lola)
It is when I first met my now colleague Katarina, a very impressive young lady, both as a tour guide, and in her mindset. She was very open to doing an interview on the realities of life as a tour guide in Vukovar, which was excellent. But what impressed me most was her positive attitude, of wanting to talk about Vukovar today, of its tourism offer and vibrant small businesses. Of life.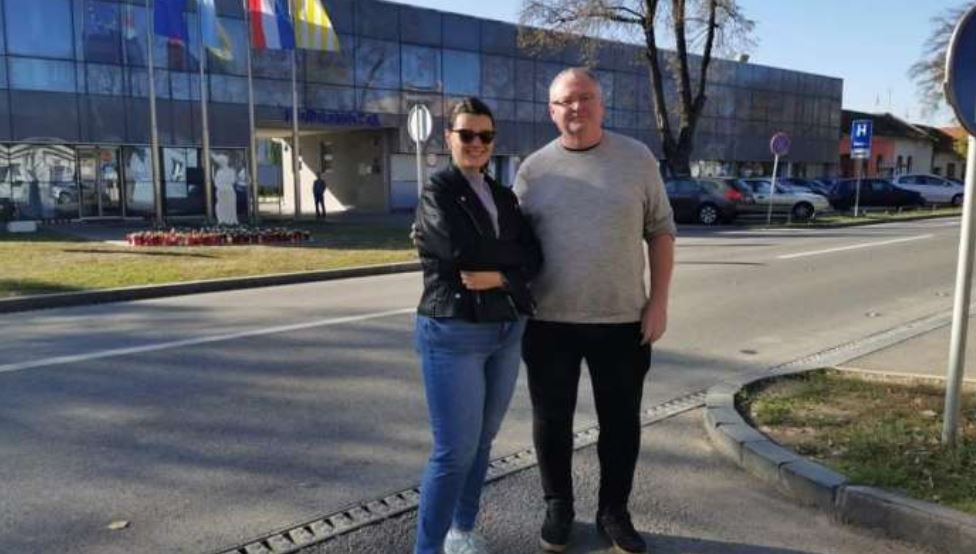 (Miss TCN Vukovar, telling the story of Vukovar 365, not just one day of the year)
She wanted to make Vukovar more than a one-day destination each year, and to remember and respect the past, but to celebrate the present and plan for the future. I decided to hire her part-time to start telling those stories, to show that Vukovar is a living city, 365 days of the year. And so, the excellent series, Vukovar 365 was born (and will continue again next month after a short break).
Steve did an excellent job, and you can watch some of the trip highlights in his video above. How many of these places in eastern Croatia do you recognise? For a detailed account of what was unquestionably the best trip of my 20 years in Croatia, read Time to Tell the Truth about Slavonia Full of Life. Steve himself continues to pay it forward with this recent publication on World Nomads: Why Eastern Croatia Should Be on Your Radar.
So much positive energy, so many incredible experiences in Vukovar and the east. And yet nobody knew about them, including most Croatians. How to change that?
I came up with an idea called the Vukovar Card, which I presented recently to Minister of Tourism & Sports, Nikolina Brnjac. She was very enthusiastic about it, confirming a ministerial letter of support for the project. It is one of those rare cases in Croatia where everyone wins.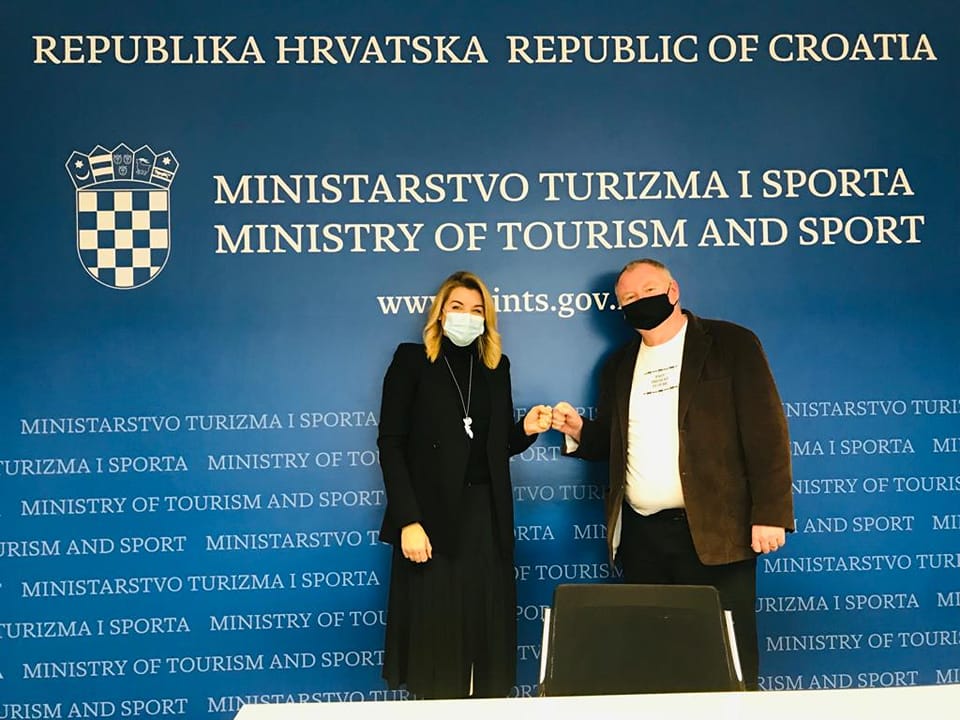 Now that I am writing about Vukovar, I feel comfortable enough to say that the thing I dislike most about living here is the attitude towards November 18 and Vukovar (if a foreigner may be permitted an opinion). So many proud Croats, most of whom have never been to Vukovar (or have any intention of visiting), changing their Facebook profile for 24 hours to express their support, that they will never forget. The next day, it is back to the photos on the beach. And when those from the diaspora come for their 3 weeks each year to the 'selo' (ancestral village) and then straight to the beach, Vukovar is the furthest thing from their mind.
It is something that is noticed by those in Vukovar today. Yes, it is nice that they change their profiles - but is it more for Vukovar, or for themselves? How does it help those trying to rebuild lives exactly?
The Vukovar Card concept is a win for all. Working with the regional tourist boards of Osijek-Baranja and Vukovar-Srijem counties, we put together a 7-day itinerary (this can be shortened) for the Vukovar Card. The itinerary allows visitors to learn more about Vukovar, to meet its people, spend money in their bars and restaurants, and experience their tourism. It also includes a fantastic itinerary, similar to the one Steve and I took, from Ilok to Baranja. So in addition to connecting with Vukovar more than just an annual temporary Facebook status, it is a chance to learn more about a part of the country few Croats know anything about.
The idea is to do the Vukovar Card tour once in your life, after which you will receive a badge or certificate. All those Croats on the coast with bars, restaurants and hotels who change their Facebook status can contribute by offering a 10% discount to Vukovar Card holders, thereby doing their bit.
And for the Minister, this is a big win, doing something 'konkretno' for the east, especially as the infrastructure from the doomed Cro Card project is already in place. You can see the proposed 7-day itinerary here.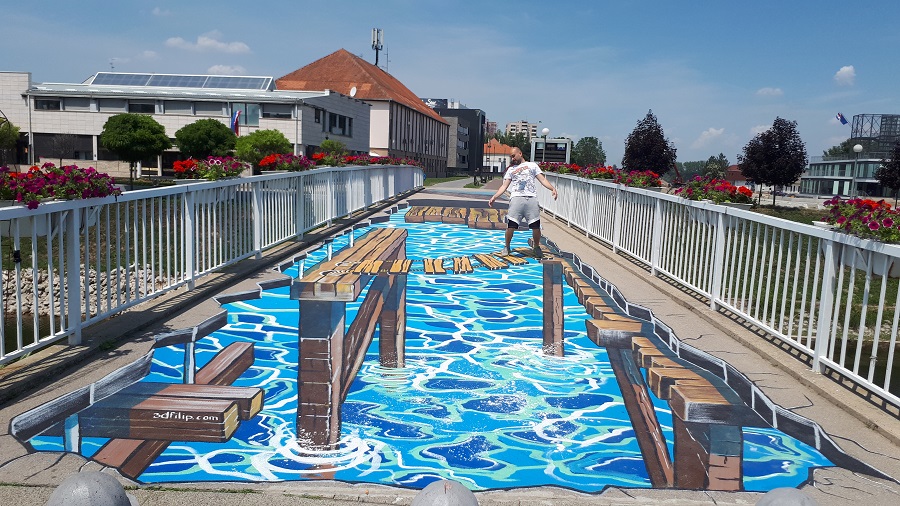 (Vukovar today, home to vibrant street art)
So what are we waiting for? The regional tourist boards have provided the itinerary, local tour agencies are ready to deliver the tours, the Minister likes it.
Ah yes, funding. Again this should not be a problem as this is a win for everyone. It is just that I am perhaps not the right person to take this forward and look for funding from the most obvious source, the Croatian National Tourist Board, given that they are currently suing me twice. But I am sure they would be more amenable to someone else approaching them, so please contact me on This email address is being protected from spambots. You need JavaScript enabled to view it. Subject Vukovar Card if you are able and willing to take it forward.
For Vukovar.
****
What is it like to live in Croatia? An expat for 20 years, you can follow my series, 20 Ways Croatia Changed Me in 20 Years, starting at the beginning - Business and Dalmatia.
Follow Paul Bradbury on LinkedIn.
Croatia, a Survival Kit for Foreigners will be out by Christmas. If you would like to reserve a copy, email This email address is being protected from spambots. You need JavaScript enabled to view it. Subject 20 Years Book