November 17, 2022 - It is more than 9 months since I have graced the inside of a Croatian courtroom, but Boy, was it worth the wait. The latest instalment of the Kingdom of Accidental Tourism v The Fat Blogger in Diary of a Croatian lawsuit, episode 7: Irish Newspapers & Belgian Radio.
In some ways, I am going to be very sad when my lawsuits from the Croatian National Tourist Board are finally resolved in 2063 or beyond. They add SUCH a surreal touch to an already insane way of life in Absurdistan, the lifestyle capital of Europe, with a sprinkling of Balkan insanity on top. Aka Croatia.
Today, I found myself taking the witness stand to defend myself in a lawsuit due to an article that I didn't write on a portal that I don't own which quoted me. Neither the jounalist nor the portal was sued, no request for a retraction was made, and the article is still live today as published, some 2.5 years later. You can read the article here.
To give you an idea of how I spent my morning, here are three of the questions the prosecution put to me during my cross-examination of almost an hour on the witness stand:
"How many Irish print newspapers did you read in 2020?"
"Do you speak French?"
"How close are you to Minister of the Interior Bozinovic?"
And a hundred other random questions, all carefully recorded for posterity. Perhaps now you can understand why I almost don't want these lawsuits to end.
Another reason that I am in no rush to end them is the excellent time I have with my legendica extraordinaire lawyer, Vanja Juric, who really is a national treasure. After today's 2-hour plus hearing, she confided in me that my case is her favourite case in her portfolio. That really made my day.
As much as Vanja is fun to hang out with (and she really is), she is the model professional and knows how to prepare her clients for the court. She suggested a meeting the day before the hearing.
"Do you remember exactly on which points of the article you are being sued, Paul?" asked Vanja.
It was so long ago, but I had it in the plan to check all before court, but I thought it wiser to let her explain.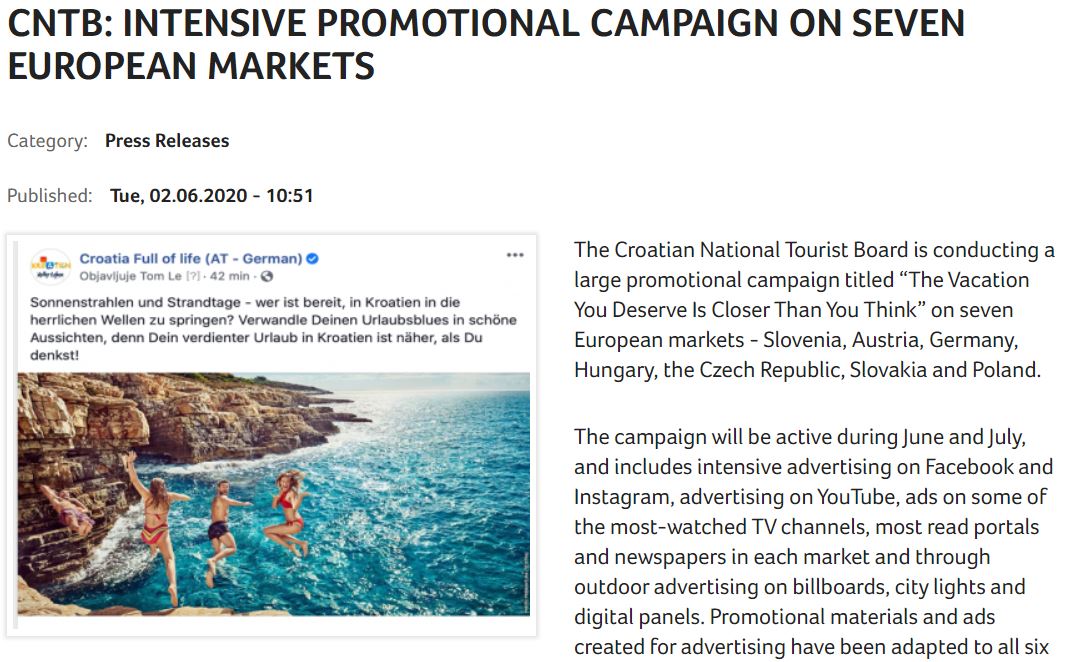 The first point was that I was openly critical of the tourist board for only targeting 7 countries in their first campaign during corona, with a press release on June 2, 2020, which you can see above and on this link. If we were trying to attract tourists by car rather than by plane, surely it would make sense to include Switzerland, Serbia and BiH, I argued.
Looking at the press release 2.5 years later, I became even more confused. What was wrong with what I said, that it could cost me 50,000 kuna plus costs and all the distress (ok, I am making the distress up - ever since Vanja took the case, I knew I would be fine).
My second alleged crime was to criticise the tourist board for failing to monitor international media, some of which was putting out incorrect information. When the Irish Times published a story saying that Irish tourists would not be allowed to go to Croatia, I published a story highlighting this as an example of the kind of headline that the tourist board should be on top of. I then went a little further, emailing the editor of The Irish Times with the correct information.
The headline was changed within the hour.
A reader then sent me a link to a similar story in Belgium. I suggested he contact the portal and get it changed. He did and it was.
Two volunteers trying to help, while we have an organisation of 70 full-time employees who are paid to promote Croatian tourism, and nobody noticed. When asked about this in a previous hearing, a tourist board representative informed the court that they pay for a press clipping service, and the problem had been resolved by the time they got their clipping.
Did I feel I was right to criticise the tourist board for not doing their job? Yes. The last time I checked, Croatia was still a democracy, and the right to free speech and voicing an opinion did not normally come with the threat of a 50,000 kuna penalty.
I left Vanja's office feeling much better about taking the witness stand, but a lot more confused and a little angry at why I was actually being sued at all, if these were the two points.
And so the day arrived...
After the prosecution had called two witnesses in the last hearing, now it was our turn. Vanja called the former Communications Director of the Office of the Prime Minister of the Republic of Croatia, Kresimir Macan, and luxury tourism consultant, Zoran Pejovic, who was also quoted in the article - but not sued. Indeed, as we learned previously, I was the only media person that the Croatian National Tourist Board sued in the whole of 2020 - and they sued me twice.
One of the things you learn when you are being sued in Croatia is to expect the unexpected. Will the hearing even take place, or will it be postponed at the last minute? So far, I am into my third calendar year with these lawsuits, and hearings have been postponed no less than four times, often due to the prosecution lawyer double booking his time and then not noticing until shortly before the hearing. Despite having a law practice with no less than 50 lawyers, it seems that my case is so complicated that it can only be handled by one dedicated senior partner.
And so we gathered outside room 219 of the Zagreb Municipal Court for our 09:00 hearing. Zoran, bless him, had woken up very early to get the first flight from Split and then flew back straight after the hearing. It was his first time in the witness box.
09:00 and no sign of their lawyer. Had it been postponed again?
We entered the court only for the judge to say their lawyer had called to say that he was running late, but that the show would go on. And on it went.
First up, Kreso Macan, who gave a very good account of events as they were. As co-founder of the Total Croatia Travel INFO Viber community, as well as having excellent relations with the police and other institutions due to his job and life in the political scene, he probably had the best overall picture of anyone in the country of the situation at the time.
Next up Zoran, for his first taste of Croatian justice close up. Zoran confirmed that he was happy with the way that he had been represented in the article, as well as endorsing my work and then spent a rather surreal few minutes answering questions on how tourists came to Croatia from Ireland before the pandemic - by car, plane or train.
The questions were incessant, and I started to wonder if their lawyer was being paid by the number of questions asked.
Zoran was free to go, and it was my turn.
As the defendant in a case in Croatia, you are allowed to make a statement, and then you are subjected to questions from the prosecution and then from the defence. Even though it was not directly relevant to the charges of the case, I wanted the judge to understand the timeline, as well as to document it for this Diary of a Croatian Lawsuit. Looking back at the timeline more than two years later, it just seems crazier than at the time.
Here we go.
January 25, 2020 - First corona article on TCN.
February 2020 - the start of the TCN Daily Travel Update, documenting borders, air, road, train, ferry, and permit information. It was not long before CNN was linking to this page as the only real source of information in English.
February 25 - first corona case in Croatia.
March 9 - first corona map of Croatia, by TCN.
Almost TWO months later, May 6, the Croatian Ministry of Tourism had absolutely NO mention of coronavirus on its website.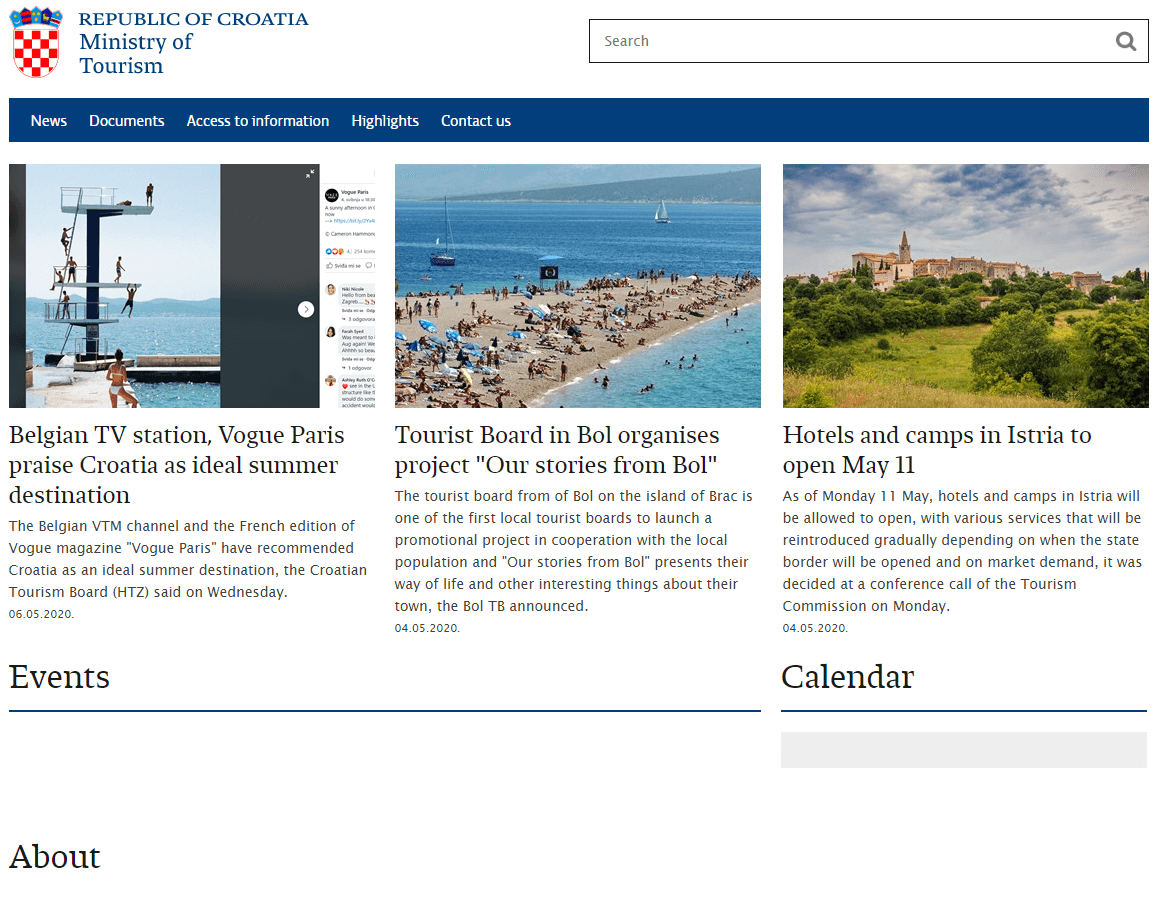 And the corona travel advice from the Croatian National Tourist Board was epic. If you couldn't find what you were looking for in the gobbledygook below, the advice was to email the ministry, not the tourist board. The same ministry where corona did not exist.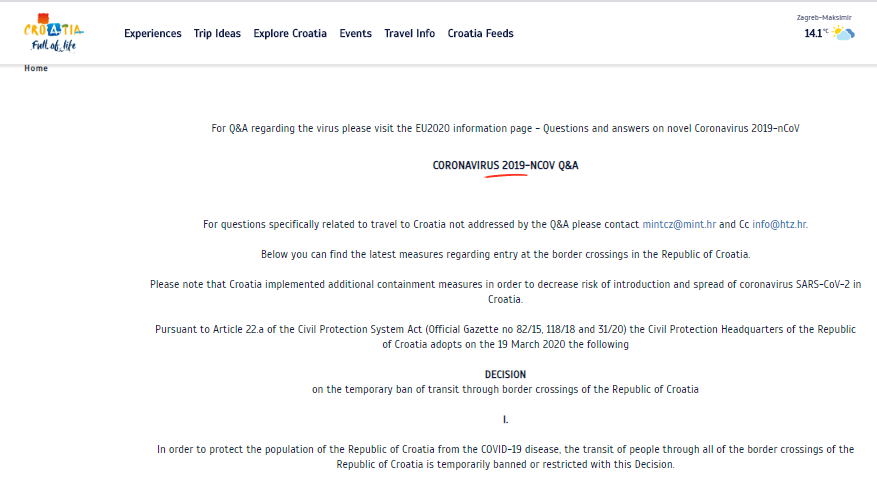 What a difference a few days make, as the Croatian media reported after I wrote an article on the subject.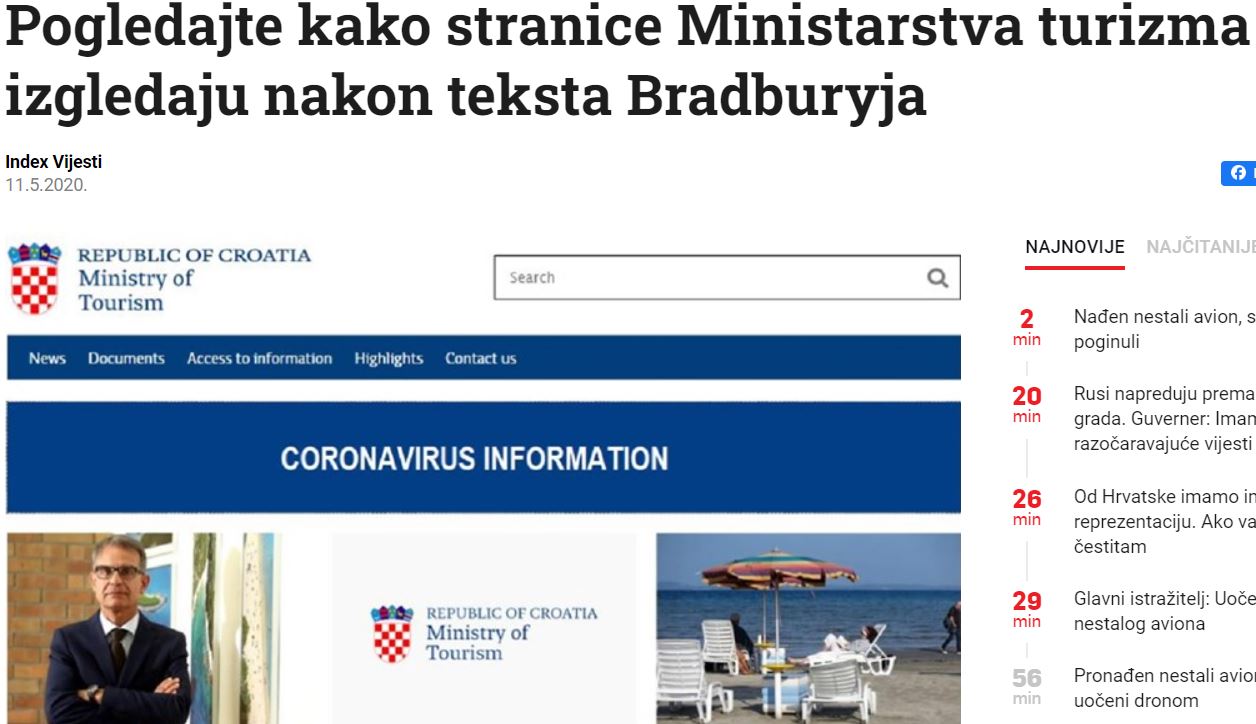 Not to be outdone, the Croatian National Tourist Board upgraded their information to something vaguely useful, as you can see below.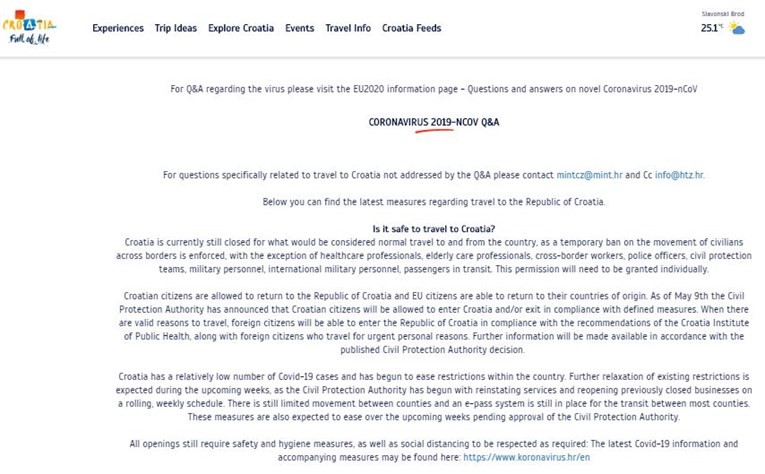 May 13 - Croatia partially reopens, but there is confusion as to who can actually come in, and under which conditions.
May 17 - I suggested to Macan that we go to the Slovenian border to see the situation on the ground. We were shocked to see people being turned back at the border, Slovenian tourists desperate to get to the sea but unaware that they needed a paid reservation. Official information was zero. And so Macan suggested we start the Total Croatia Travel INFO Viber community. It was a project that took up half of my summer, earned me zero kuna, won 7 international awards (mostly for crisis management), and taught me more than any project in my life.
May 19 - The Total Croatia Travel INFO Viber Community is launched.
June 2 - The Croatian National Tourist Board launches its campaign in 7 markets.
June 12 - An article criticising official tourism promotion efforts appears in Index.hr, quoting me.
The blue letters from the Zagreb Municipal Court start to arrive, and the rest is history.
After I finished, the questions began. So many questions. My favourite was
How many Irish print newspaper articles did you read in 2020?
How much news did you watch on Irish TV? Or on Irish radio?
Knowing that I was to be cross-examined on my relationship with Belgian radio, I put it on record for the court that the only media I follow was online media, in an effort to reduce the number of questions.
My assertion that I had an excellent relationship with MUP, with whom we cooperated superbly (MUP was THE only effective tourist info provider at one point, and it was their staff, not the 319 tourist boards that were answering the barrage of tourist questions, with help from TCN and our Viber Community) led to questions of the closeness of my relationship with the Minister, who I have met twice in my life.
My French language proficiency was apparently relevant to see if I had understood the corrected article mentioned above from Belgium. There were lots of questions about my knowledge of the numbers of tourists from certain markets, which borders were open in Croatia in certain months, and many more questions I can no longer recall, but eventually, some two hours after the hearing started, the questions finally stopped.
The judge announced that the case will go into its fourth calendar year, but that there will be a verdict, which will be given on January 13, 2023.
Win or lose, I will see a little less of Vanja, which will make me a little sad, but the highlight of the day remains that I am her favourite case.
Stay tuned for the next episode of Diary of a Croatian Lawsuit. With three active lawsuits against me, there is still plenty to write about. Check out the dedicated section to this madness for the latest.