May 21, 2023 - A decade after its first edition, one of the best promotional events in Croatia kicks off in Istria - Nikola Tesla EV Rally 2023.
If I was looking for a symbol to promote the very best image of Croatia, I don't think I could come up with something better than the Nikola Tesla EV Rally, an annual event which celebrated 10 years when it kicked off in Rovinj yesterday.
This year's event, the longest ever at 10 days, will take in the delights of Istria, the Kvarner and Dalmatian coasts, in a 5-star tour of the very best that Croatian has to offer. The participants, predominantly Tesla drivers from all over the world, congregate each year to sample the best of Croatian luxury accommodation and gourmet experiences, interspersed with tourism sightseeing and speed tests at Vrsar Airport.
Imagine the symbolism. In modern Croatian, the birthplace of Nikola Tesla in Smiljan, the electric ca revolution is celebrated, while showcasing the finest nature, lifestyle, gastronomy and authentic experiences. I can think of no finer event to present the best of Croatia.
It is an event that has seen the likes of Elon Musk's mother, Maye Musk, take part (can you imagine the mother of Mr Modern Telsa driving a Tesla around the land of the birthplace of Nikola Tesla - and almost nobody noticed...), as well as the owner of the first-ever Rimac Concept_One driving his $1 million car all over Croatia on the rally route.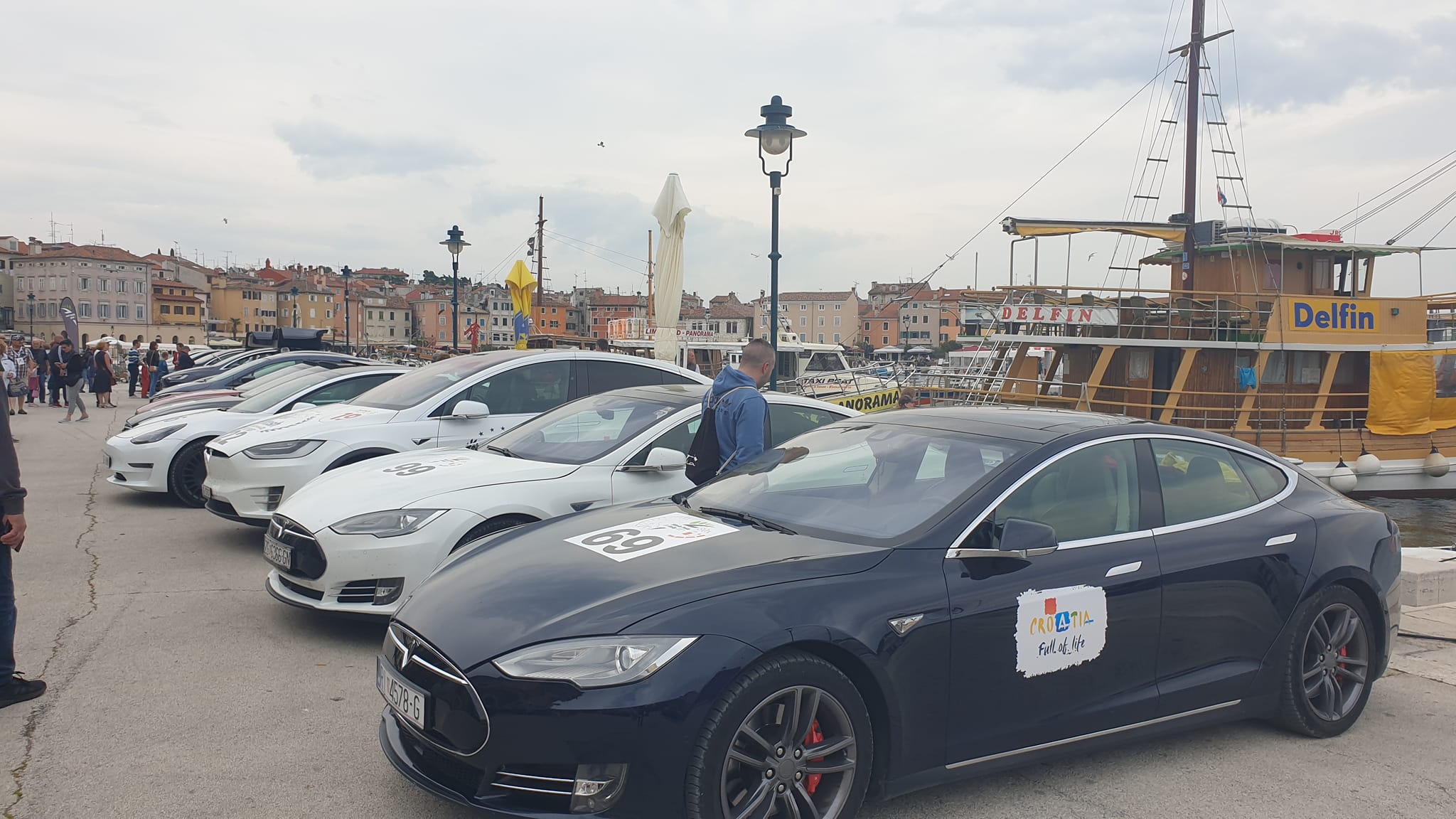 This year's event kicked off as usual in Istria, with the Teslas, accompanied by an electric vehicle from the local administration in Fazana, lining up on the waterfront to be inspected by curious passers-by, before heading off inland for Day 1 of the driving in the rally.
Beautiful Rovinj was a stunning setting, as you can see from the drone sho above, only to be followed by the first stop.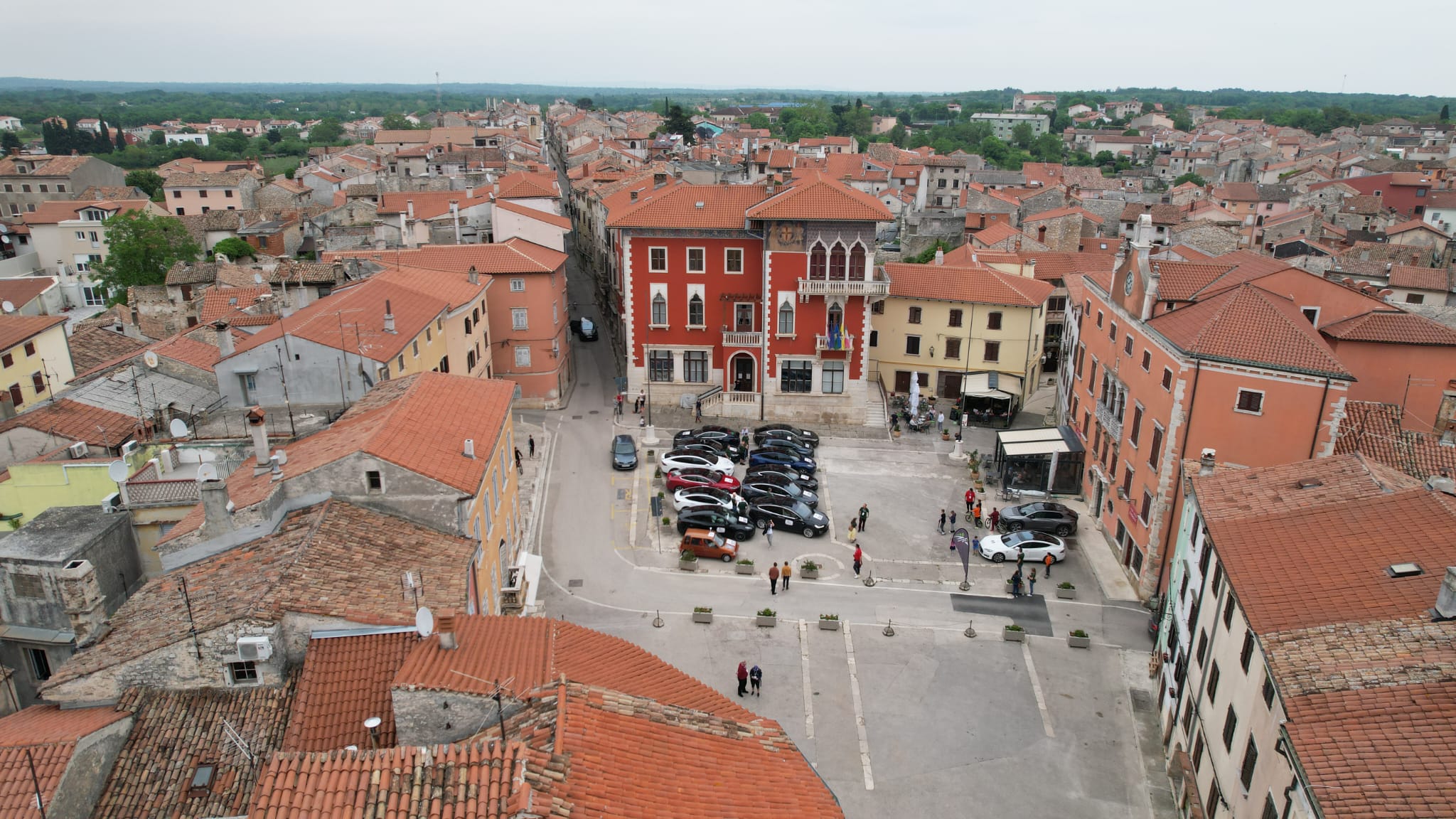 Vodnjan and its timeless and narrow streets proved to be an excellent first stop, accompanies by a walking tour of the town, which included a visit to the famous mummies in a nearby church.
Vodnjan from the air - it has recently become famous for something else - home to the first-ever Croatian unicorn, the IT company, Infobip.
One of the things I like most about the rally (I have attended parts of it 3-4 times over the las few years), is how organisers Tina and Igor Kolovat manage each year to bring some of the best culinary experiences into the program, and there is always a surprise, even for those of us who know Croatia quite well. And that surprise on the first day was undoubtedly Prsutana Bursic in Vodnjan.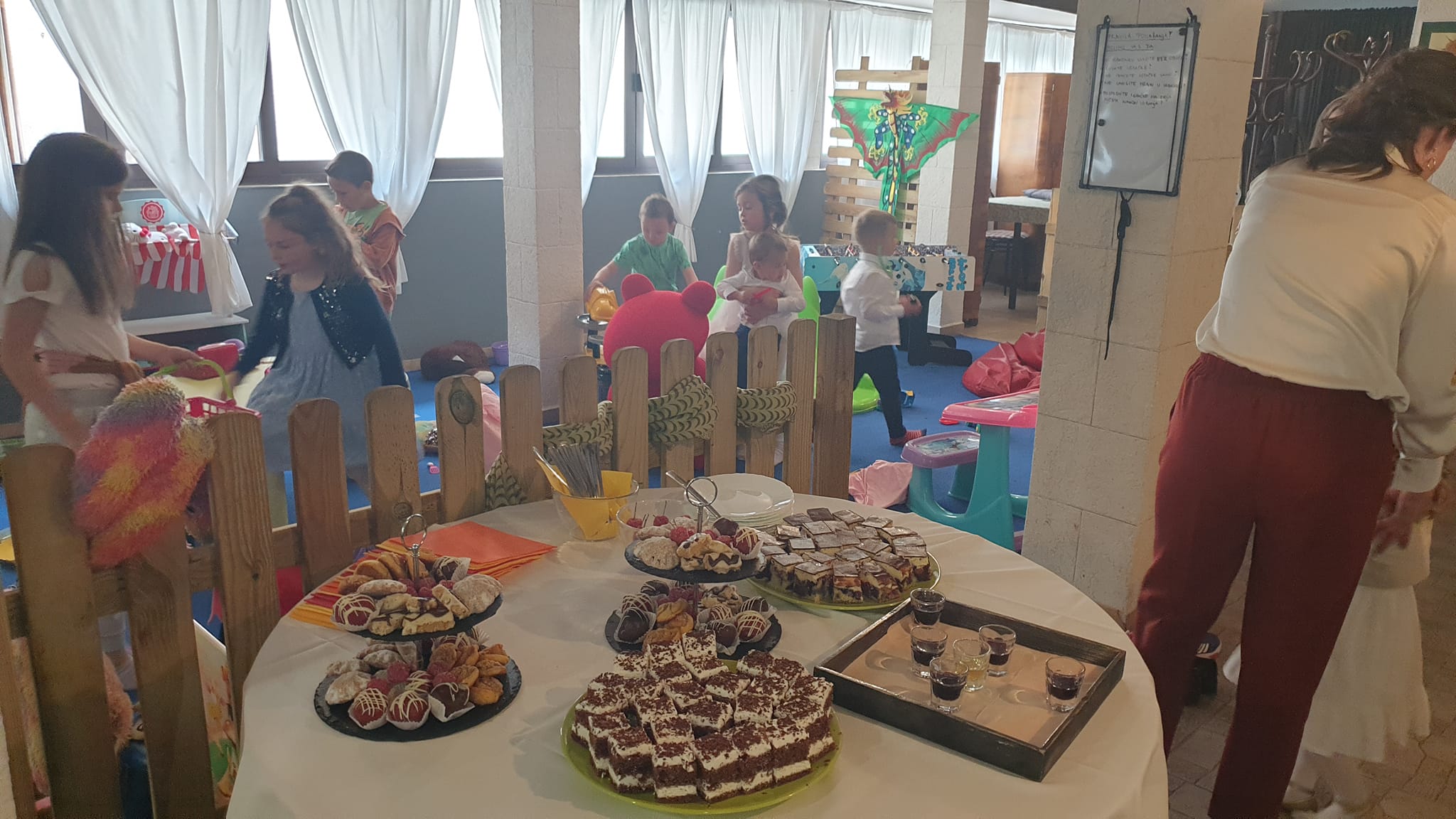 I have visited many prsut producers during my time in Croatia, but none quite like this one. Apart from the delicious (and smokeless - only the wind is used in the production) prsut, I had never been to a prsut producer who has invested so much into make the prsut tasting experience a family occasion. Kids play areas! Awesome stuff.
But not as awesome as this gem of a find below, and something which I have never come across before.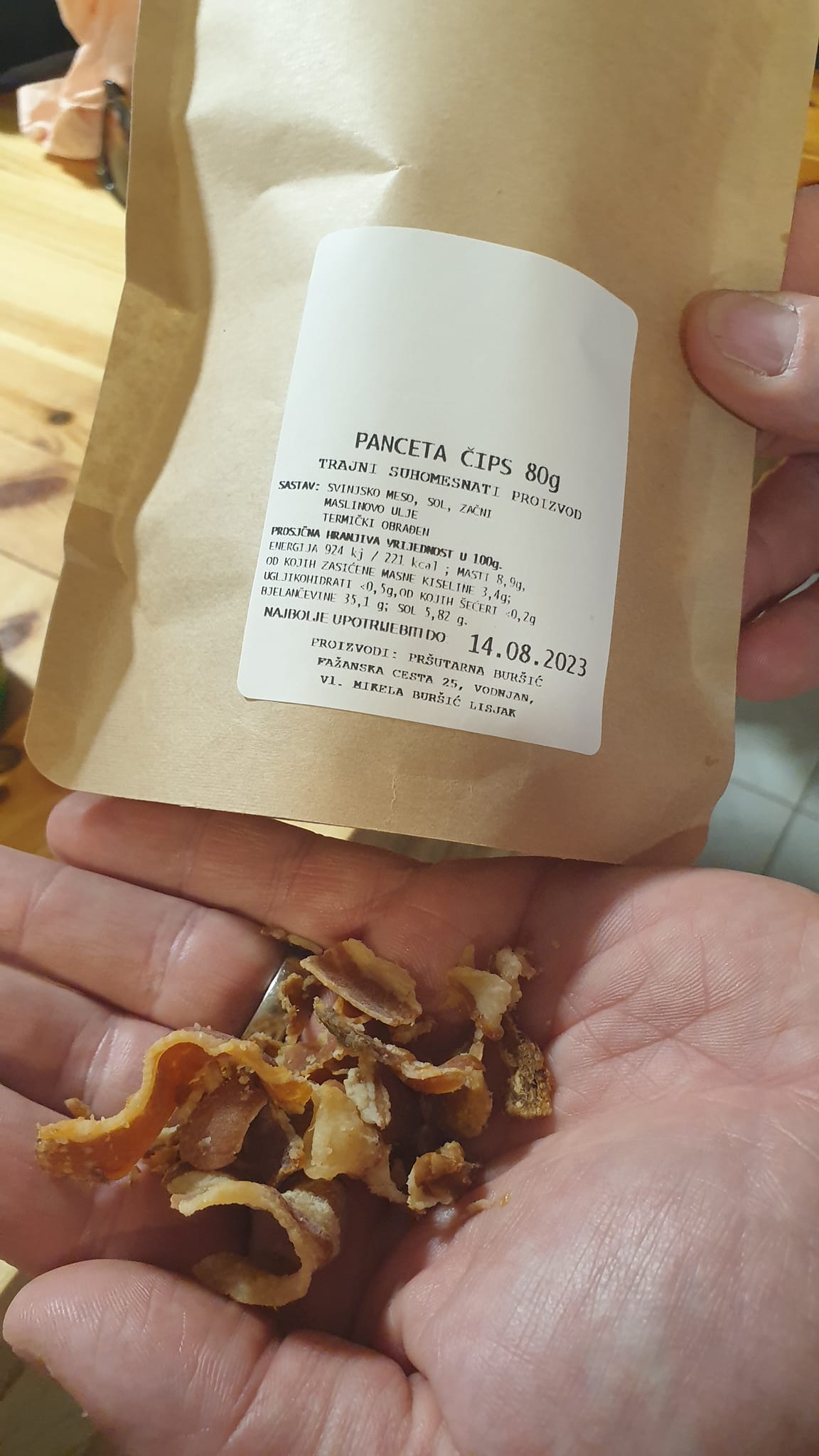 Pancetta chips. This was pork scratchings on steroids, absolutely stunning, and the perfect snack with a cold beer. It is the brainchild of the wife of the producer, who came up with it during lockdown. Just one of a range of excellent products on offer. Definitely a hidden gem worth checking out next time you are in Istria.
From there, to more familiar territory and the Bruno Trapan wine and lunch experience. Trapan is one of Istria's best-known and most innovative winemakers, and his Trapan Station is an excellent culinary experience and introduction to the world of Istrian gastronomy. While Mrs Trapan toiled away in the kitchen to produce an excellent lunch for the guests, Bruno was front of house, making sure everything worked like clockwork, while simultaneously presenting six of his outstanding wines. A fine example of a family business with a passion for excellence creating a stunning first impression to the international arrivals.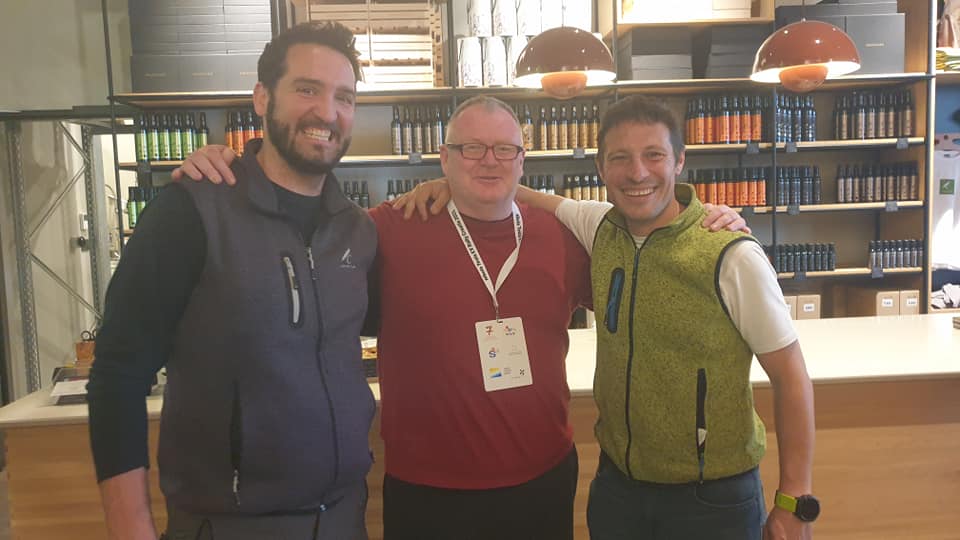 Having been seduced by the prsut, wine and food of Istria, next stop on the rally was to one of my favourite stories in all Croatia, and arguably the leading olive oil producer in the country. In 1997, a teenage boy planted 100 olive trees in memory of his late father and grandfather. His elder brother supported him in his project. Today, Chiavalon olive oil is acclaimed as one of the best in the world.
Elder brother Tedi Chiavalon was on hand to welcome the rally participants to the new Chaivalon facility just outside Vodnjan. His presentation about extra virgin olive oil was one of the most educational gourmet presentations I have heard in Croatia, giving a step by step guide about how to spot the real and the fake extra virgin olive oil. It was also a presentation with not a hint of a sales pitch, but so impressed was his audience, that the Chiavalon shop till was ringing for some time as participants lined up to get their slice of Istrian liquid gold.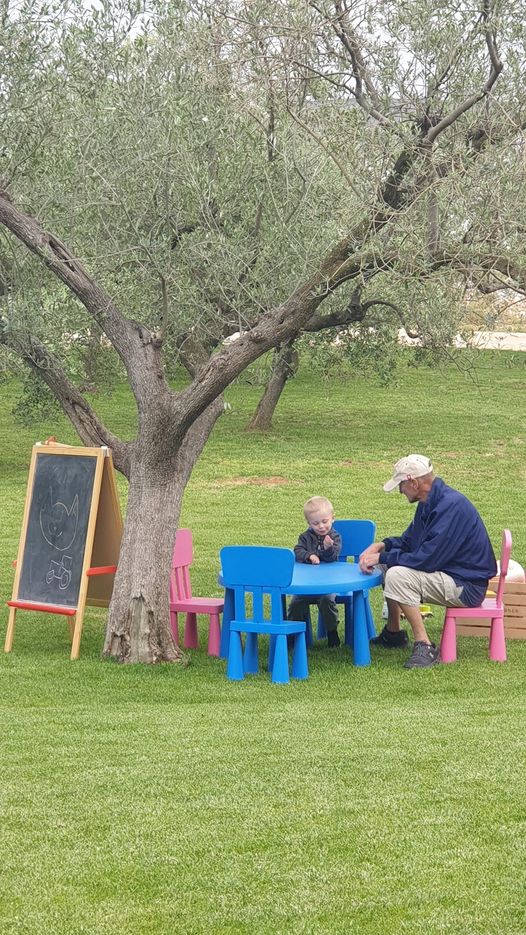 A superb opening day, rounded off with dinner at Hotel Eden in Rovinj, and then to bed in preparation for Day 2 - highlights of which include visits to Groznjan and Buzet, as well as speed racing of Teslas at the private Vrsar Airport. After that, the rally will head south to Split, while also visiting Peljesac, the Imotski Lakes, Sibenik, Krka National Park, Crikvenica and Trogir. You can see the itinerary here, and follow the rally on Facebook.