May 28, 2023 - As the world talks of sustainable tourism, a quiet revolution in the olive groves, vineyards, and forests of inland Istria is showing how it is done.
Back in 1998, in a forgotten tiny hillside village in northern Istria called Ipsi, close to the Slovenian border, local man Klaudio Ipsa made a decision which would start a revolution in tourism in the region. A decision people laughed at, declaring him crazy.
In this picturesque village of just 18 people, down from a previous 126 just a few years before, Ipsa decided to revive 100 olive trees, as well as plant another thousand and start producing high-quality extra virgin oil.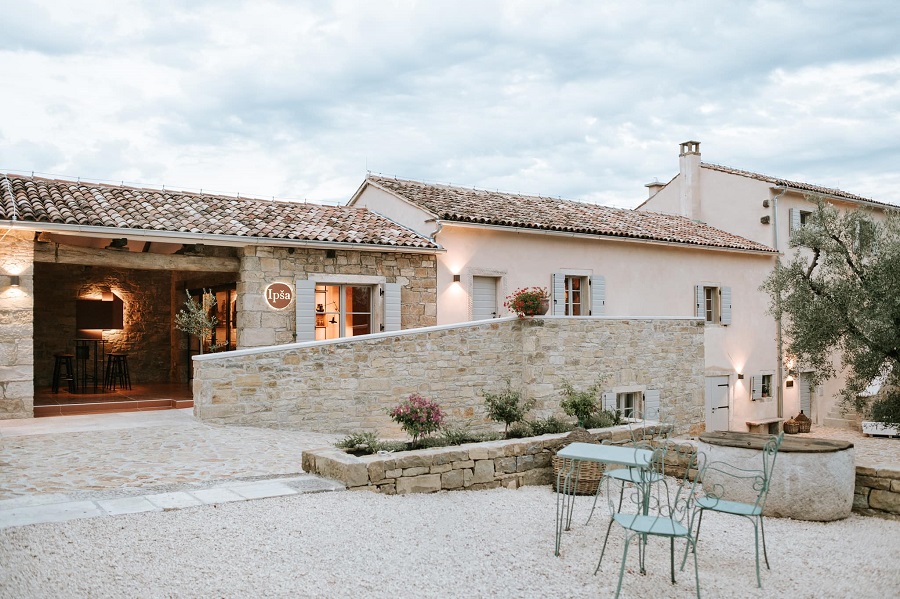 (Ipsa oil and wine in Ipsi, where the Istrian Flos Olei journey began)
Back then, inland Istria was not well-known for tourism, the focus more on mass tourism on its coast, and many of the villages inland were somewhat abandoned, or at least severely depopulated. While many locals produced their own olive oil, it was not a region known for its quality extra virgin olive oil at all.
Until a few years after the planting of those 1100 trees by Klaudio Ipsa.
Fast forward five years, and the first harvest in 2003. Fast forward another two years to 2005, and the Ipsa extra virgin olive oil became the first in Istria to be included in the illustrious Flos Olei Guide, akin to a Michelin Guide for olive oil, and a publication which traditionally fawned over the quality of olive oil from the likes of neighbouring Italy.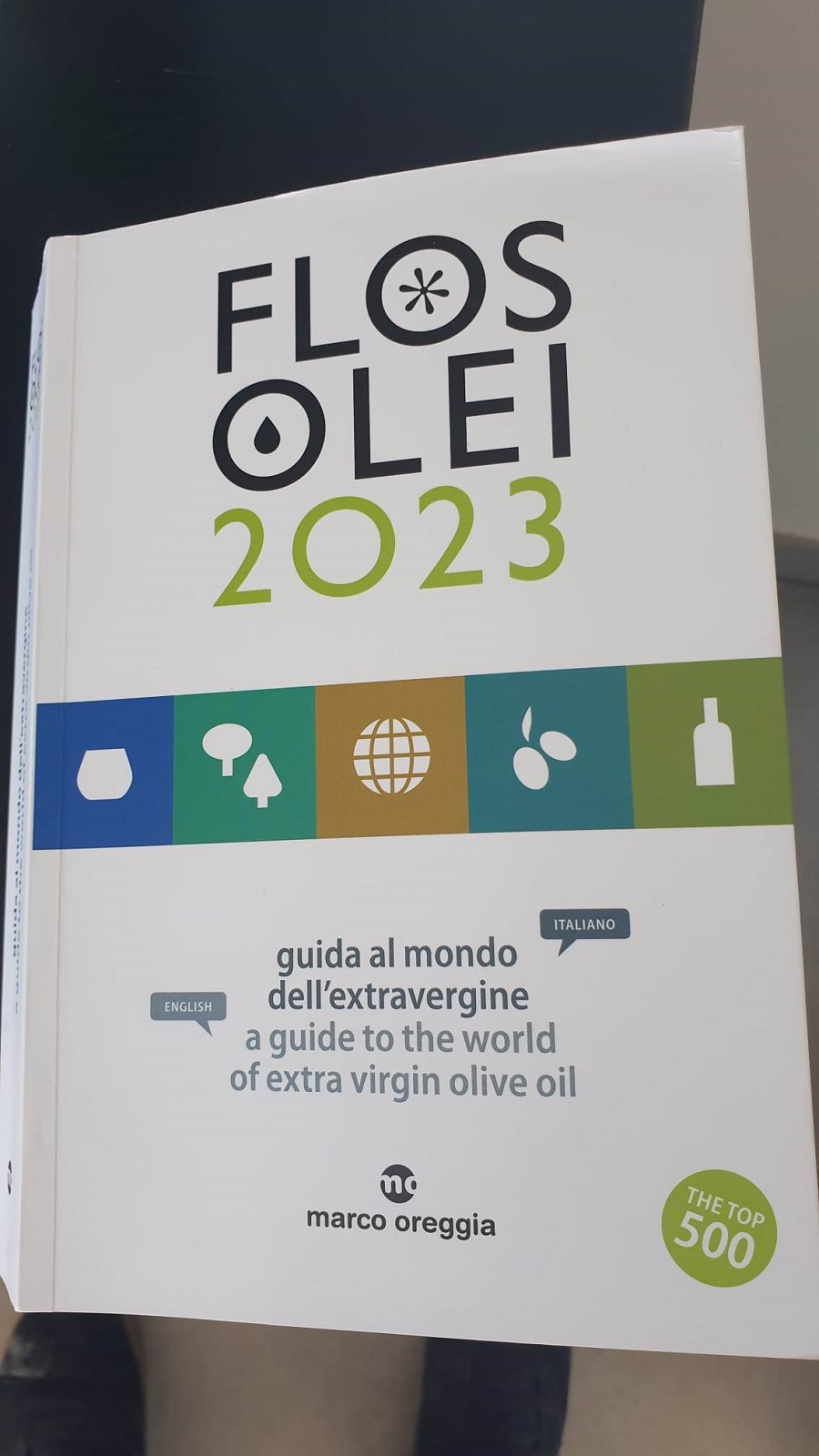 Other olive producers took note and - working with a team dedicated to raising the level of quality of Istrian quality in gastronomy - progress was swift. Only nine years after Ipsa's groundbreaking success, Istria was named as the best olive oil region in the world by the esteemed publication, with more than 10% of Istrian olive oil producers in the global top 500. An extraordinary achievement. In the latest, 2023 edition, there are 57 olive oil producers from Croatia in the world's top 500 - 56 of them from Istria, making up 11% of the global top 500. In third place is that man Klaudio Ipsa, with 98 points out of a hundred.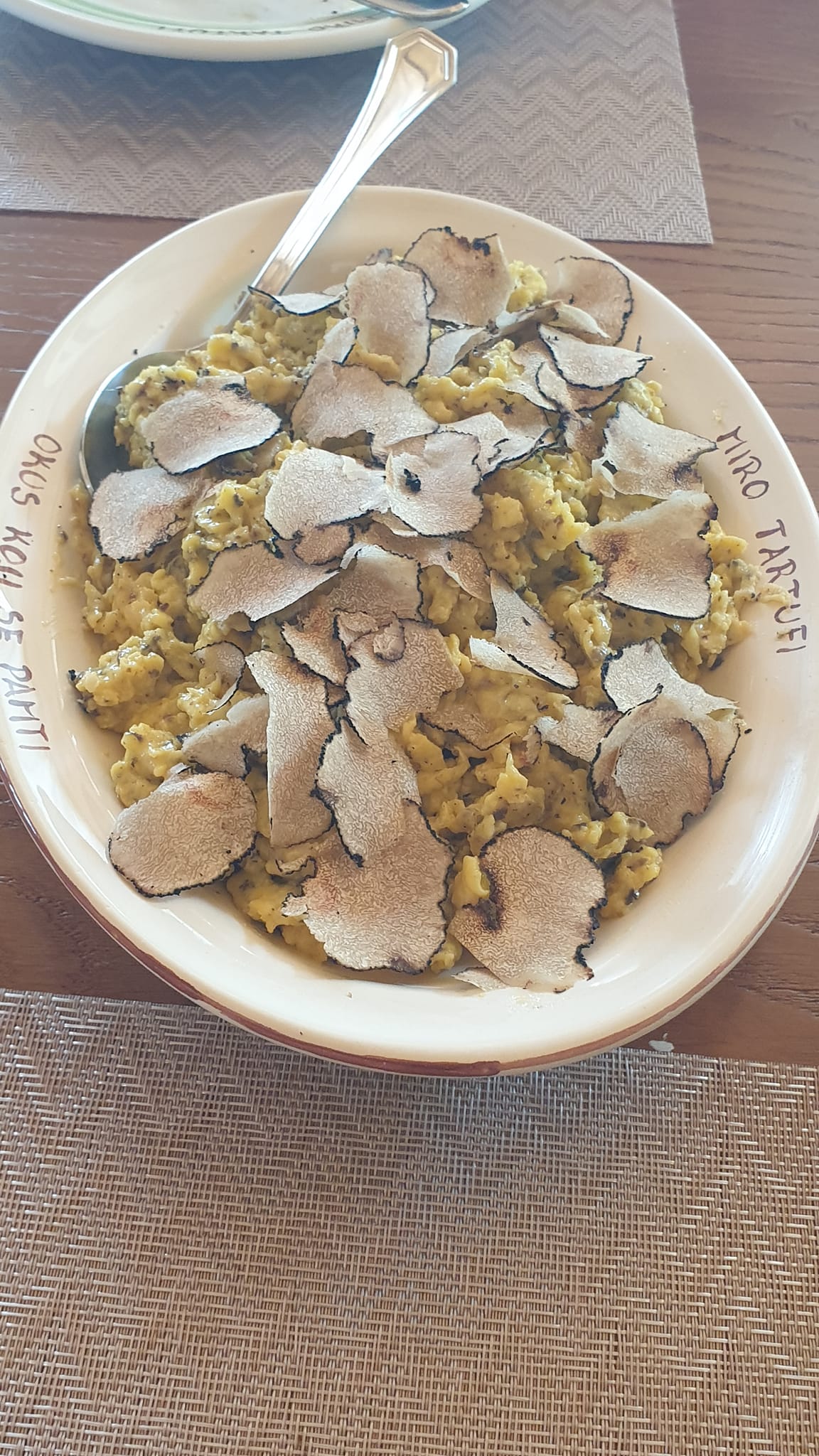 (Scrambled egg and fresh truffles from the morning hunt with Miro Tartufi in Motovun)
Meanwhile, down the hill in Livade, just below the picturesque town of Motovun, and just a year after Ipsa planted those trees, inland Istria was about to cause waves on the global gourmet scene after another local, Giancarlo Zigante, went out with his dog one morning.
His truffle-hunting dog, Diana.
Truffles were a part of the Istrian scene but it was not a region recognised internationally for its truffles. Until Giancarlo came home on November 2, 1999, with what the Guinness Book of Records described as the world's biggest truffle, weighing an astonishing 1.31 kg. Istria's arrival on the global truffle map was assured, and the region has worked hard to develop truffle tourism - it is now one of the most recognisable brands of Istrian cuisine.
(Roxanich Design Hotel, Restaurant and Winery, a quality addition to truffle-hunting territory in Motovun)
Four years before the truffle discovery, and immediately after the Homeland War, the first luxury tourism tour of Croatia from the USA was conducted by Wanda Radetti in 1995. Istria had its historic charm back then, she told me over dinner at Hotel Ambasador in Split recently, but the wine was terrible. It was a choice of red or white, and very little of it was memorable.
About the same time - a year earlier in 1994 - Gianfranco Kozlovic, from a family wine-growing tradition dating back 200 years - decided that he wanted to focus on quality production. He was the first in Istria to introduce cold fermentation and the first harvests of commercial importance in 1994. Just three years later, at the Vinovita Fair in 1997, the Kozlovic Malvazija was named the best white wine in Croatia. The pioneer had delivered, others followed, and today the wines from the vineyards of inland Istria are much sought after.
Olive oil, wine, truffles - three of the cornerstones of Istrian tourism today, and all three a mark of quality and excellence, and yet all three hardly featured less than thirty years ago.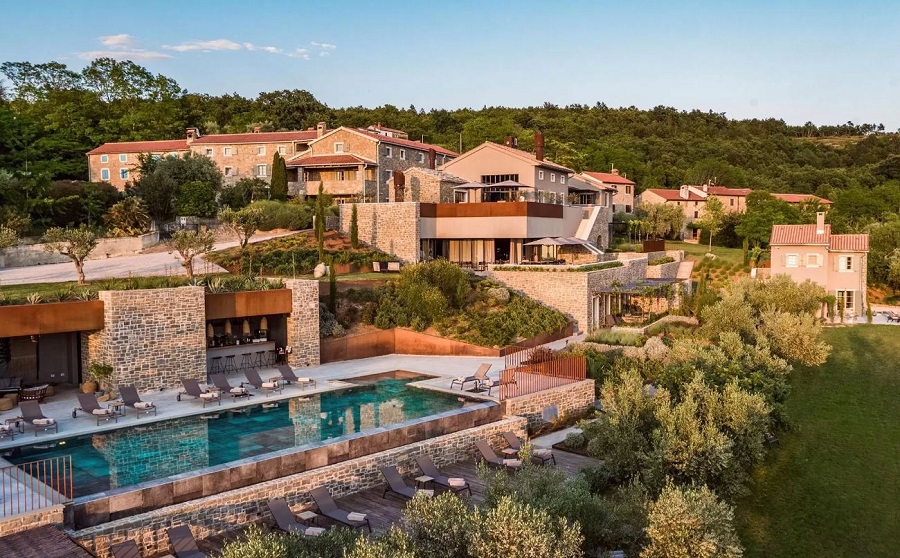 (San Canzian is one of the growing number of boutique hotels powering the luxury tourism revolution in inland Istria)
Full disclosure, I am an adopted Dalmatian
I have been to Istria many times on short trips over the last 20 years, but it is not a region I know as well as I should. Having bought a house and married on Hvar, I have Dalmatia in the blood - Paradise indeed. Perhaps it was through loyalty to Dalmatia, but for some reason I never really clicked with Istria, and I have been criticised over the years (rightly) for not featuring Istria enough on TCN. I decided to try and change all that and contacted the very proactive Istrian Tourist Board Director, Denis Ivosevic, to see if he was interested in helping me get to know his region a little better.
He was. Not only that, but Denis put together an excellent 6-day programme for us (more of which you can see shortly on my YouTube channel, Paul Bradbury Croatia Expert), most of which completely opened my eyes to what I genuinely think is the greatest achievement in Croatian tourism - the transformation of inland Istria into perhaps Croatia's top luxury and gourmet region. A claim that would have been laughable in the mid-1990s, when Denis and his team started their mission to transform the region into a quality tourism destination moving away from mass tourism and focusing on the quality of the local produce, its nature, and its cultural heritage.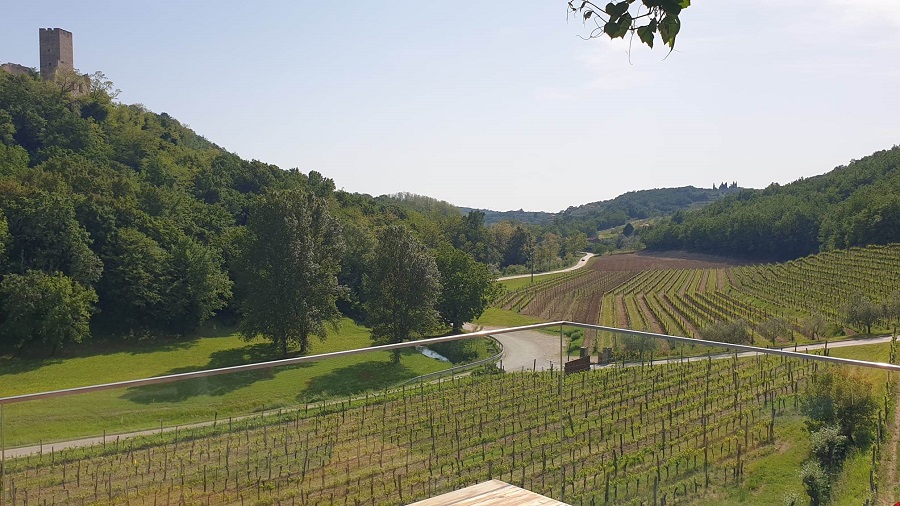 (One vision, one valley - Kozlovic)
I hadn't realised that Istrian tourism before the war was essentially mass tourism on the coast, and that many of the inland villages were completely dead. Driving through those picturesque rolling hills last week, past winery after winery, boutique hotels, thriving family farms, it is hard to imagine that it was apparently one of the poorer regions of Croatia before the war. Take away the quality wine, award-winning olive oil, record-breaking truffles, those luxury boutique hotels, and inland Istria must have been a different proposition.
Denis and his team worked hard to persuade local producers that Istria was too small to compete with quantity, and that its best chance was to focus on quality, quality, quality. He was there to encourage Ipsa to take those initial steps, as well as Kozlovic and all those who followed. By focusing on quality, education, and best practices elsewhere, slowly the project to transform inland Istria started to take shape.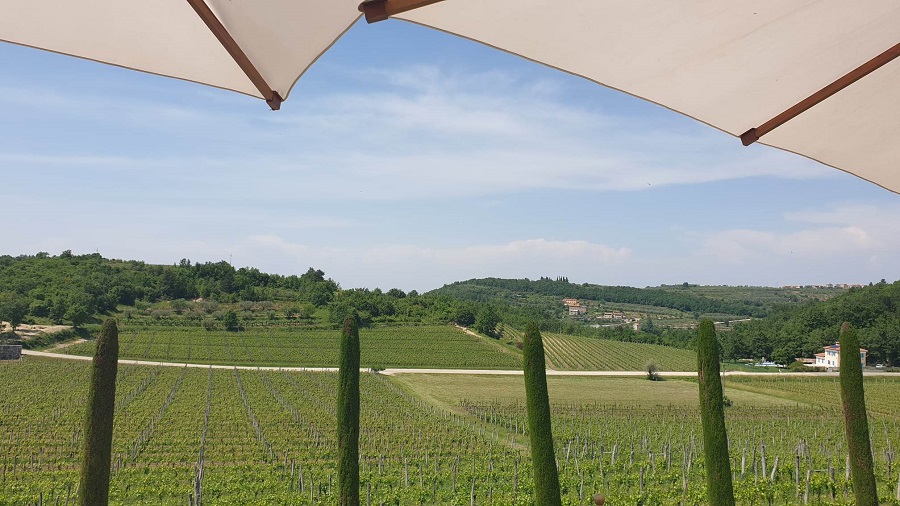 (One vision, one valley - Kabola)
I was not long into my Istrian journey last week before I realised one thing - inland Istria was a region of individual passion fitting into a collective strategy to really develop the region on so many levels. One family, one valley, one vision, I felt myself saying on more than one occasion. An individual project with few to no neighbours, a quality addition to the general picture. Individual gourmet excellence, all with a unique flavour and character.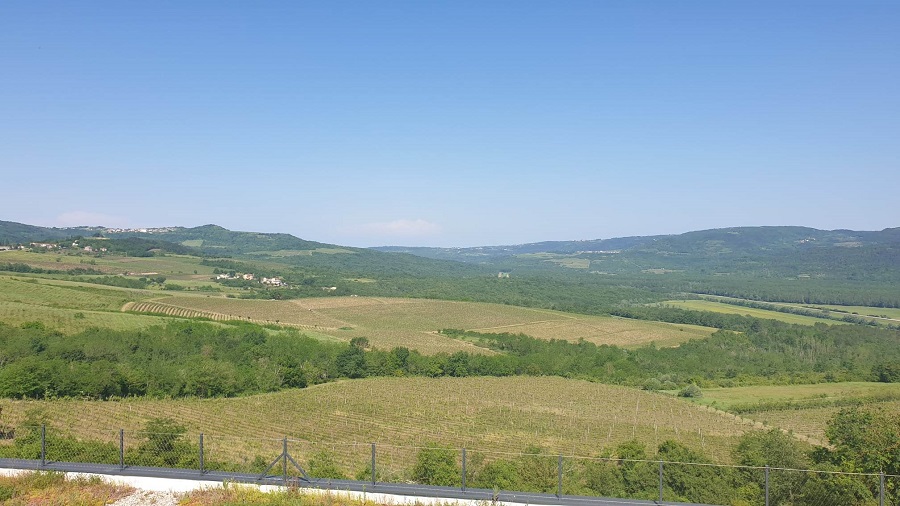 (One vision, one valley - Roxanich)
And for several places we visited, there seemed to be a pattern. It started out with making wine or oil, was followed by oil or wine, then a restaurant, then a place to stay. Education, education, education. Quality, quality, quality.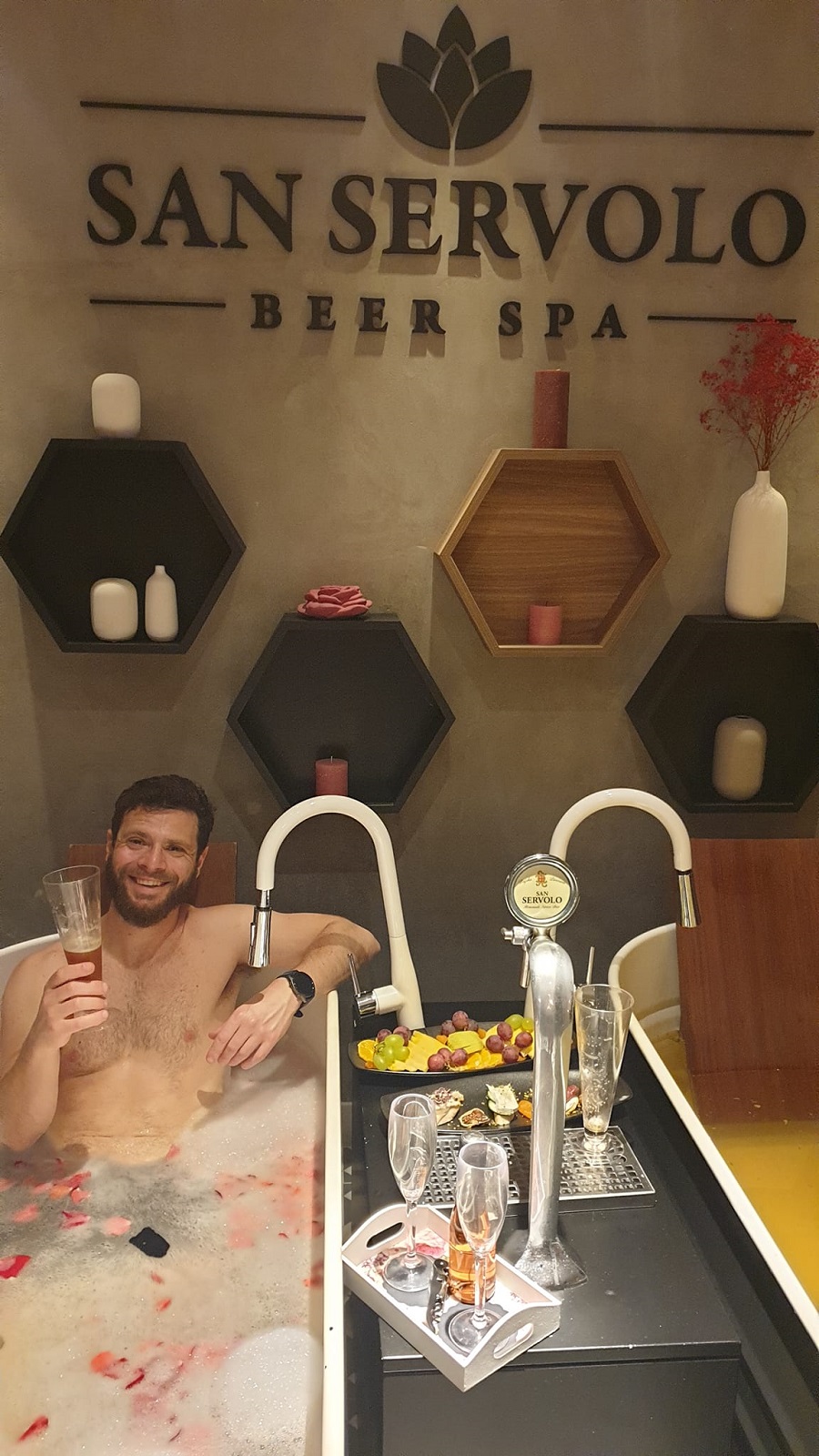 (The San Servolo beer spa for two - a beer bath for one, a rose petal for the other - with draught San Servolo on tap)
It was a wonderful week, where I spent much of the time admiring views of spectacular vistas, glass in hand, marvelling at the individual host of the moment. The incredible success of the San Servolo beer factory come restaurant, spa (and I DO recommend the beer spa), hotel, restaurant, mobile home complex, with a trattoria to come.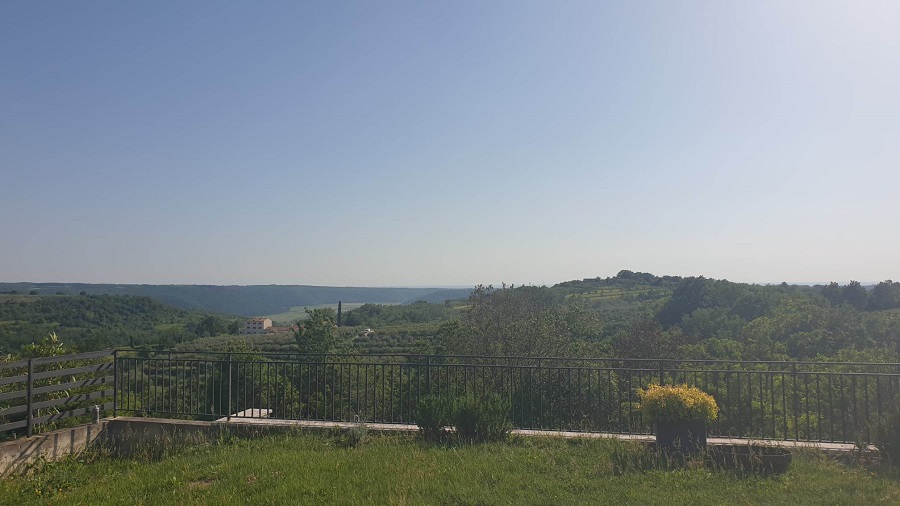 (One vision, one valley - Clai)
The fabulous wineries and views of Kabola and Kozlovic, followed by the magnificent Roxanich in Motovun. Boutique hotels such as Roxanich, San Rocco, and the discovery of the trip - Clai.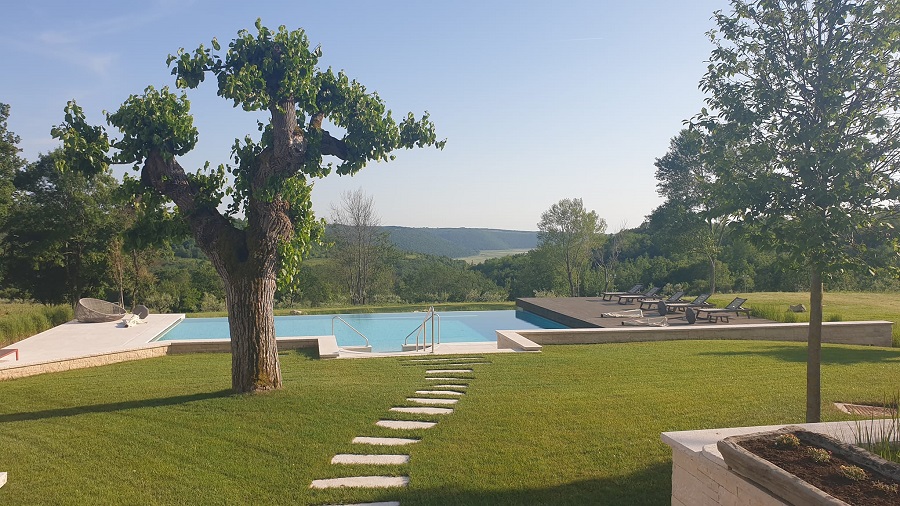 (The only property in the view from the Clai winery - Istria's most luxurious rental - a small part of the garden)
It started as a visit to yet another excellent winery, with its own stunning view over the valley. Another case of one vision, one valley. But then we were taken to see the rest of the project, which included the most expensive villa in Istria at 49,000 euro a week (sleeps 20), and a quite extraordinary dinner at a restaurant whose name did not seem that promising - Stara Skola, or Old School, in Krasica, which is being run by famous Swiss-Canadian chef, Priske Thuring.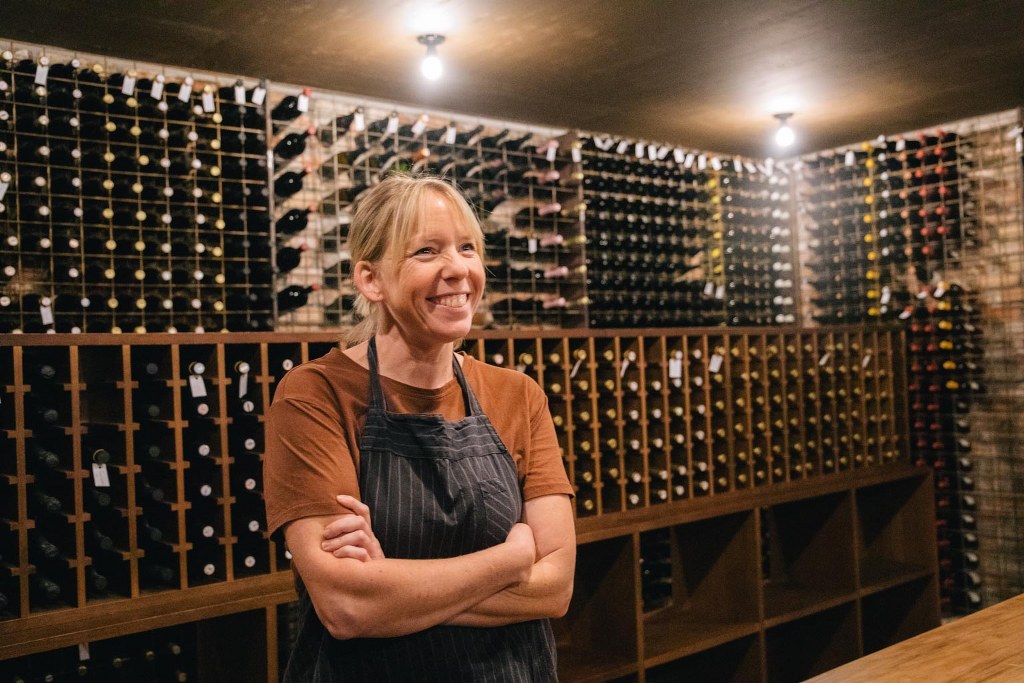 I will cover the food in a separate article - one of the best meals I have had in Croatia - but the story of Stara Skola in many ways symbolises the regeneration of inland Istria for me. The school itself closed down 33 years ago, a not atypical event in the rural parts of Croatia at the time (or since). Falling into disrepair, the school was bought as part of the Clai project, Thuring persuaded to come on board, and the school then reopened as a fine dining restaurant with a zero waste policy, meaning that Thuring's menus are VERY creative and changing daily. With a commitment to buying local, many of the former pupils are once more returning to school more than 30 years later - this time to deliver fresh produce from their gardens to the restaurant kitchen. The janitor all those years ago is once more working at the school, tending the garden and other chores.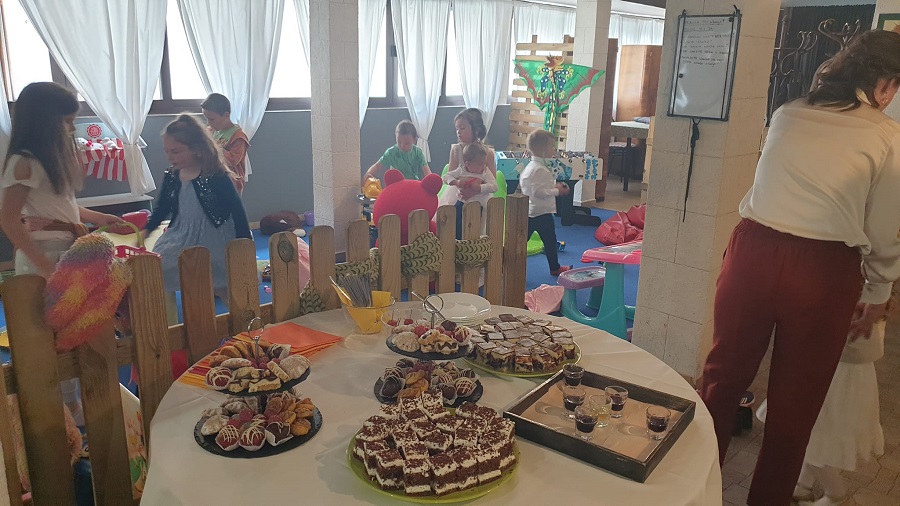 (Bursic in Vodnjan - a family prsut experience)
The quiet revolution of quality, celebrating local, and excellent service is spreading nicely all over inland Istria, and it is extending to other areas too. I have tasted a lot of prsut in my time here, but I have never been to a prsut tasting place as Bursic in Vodnjan, which has outstanding facilities in addition to the excellent prsut, such as a well-equipped kids' play area. And if you are looking for a fabulous and (I think) unique prust product, don't miss the pancetta chips.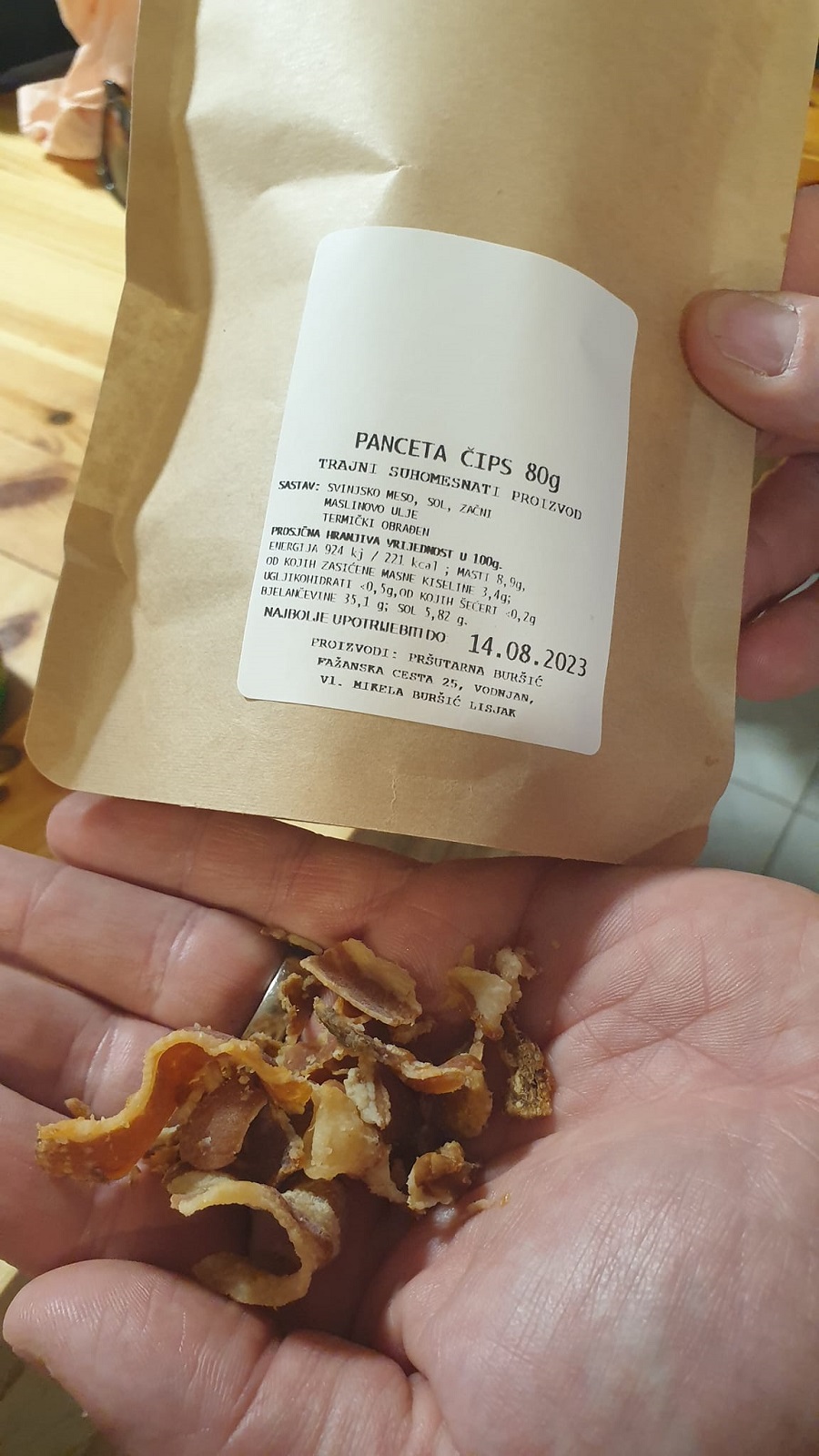 (Pancetta chips from Bursic in Vodnjan - just try them)
The hotels and restaurants are all buying local, helping small producers to develop their businesses, while also promoting them. It is a region that seems to be working in perfect harmony, developing an eco-system, which is increasingly interlinked. And all the hotels were full in May. Not only that, but guests were not rushing to the Adriatic, as one might expect, rather luxuriating in the nature, peace and quiet, as well as the traditions and culture of the hilltop towns around.
And then the statistic that truly blew my mind from Denis - and hark back to where inland Istria was in terms of development 30 years ago.
"The average room rate on the Istrian coast is 85 euro a night, and the average occupancy is 90 days.
"The average room rate in inland Istria is 290 euro a night, and the average occupancy is 120 days."
An incredible 3.5 times higher spend, and 33% longer stays. And all from a standing start compared to coastal tourism which is very well developed.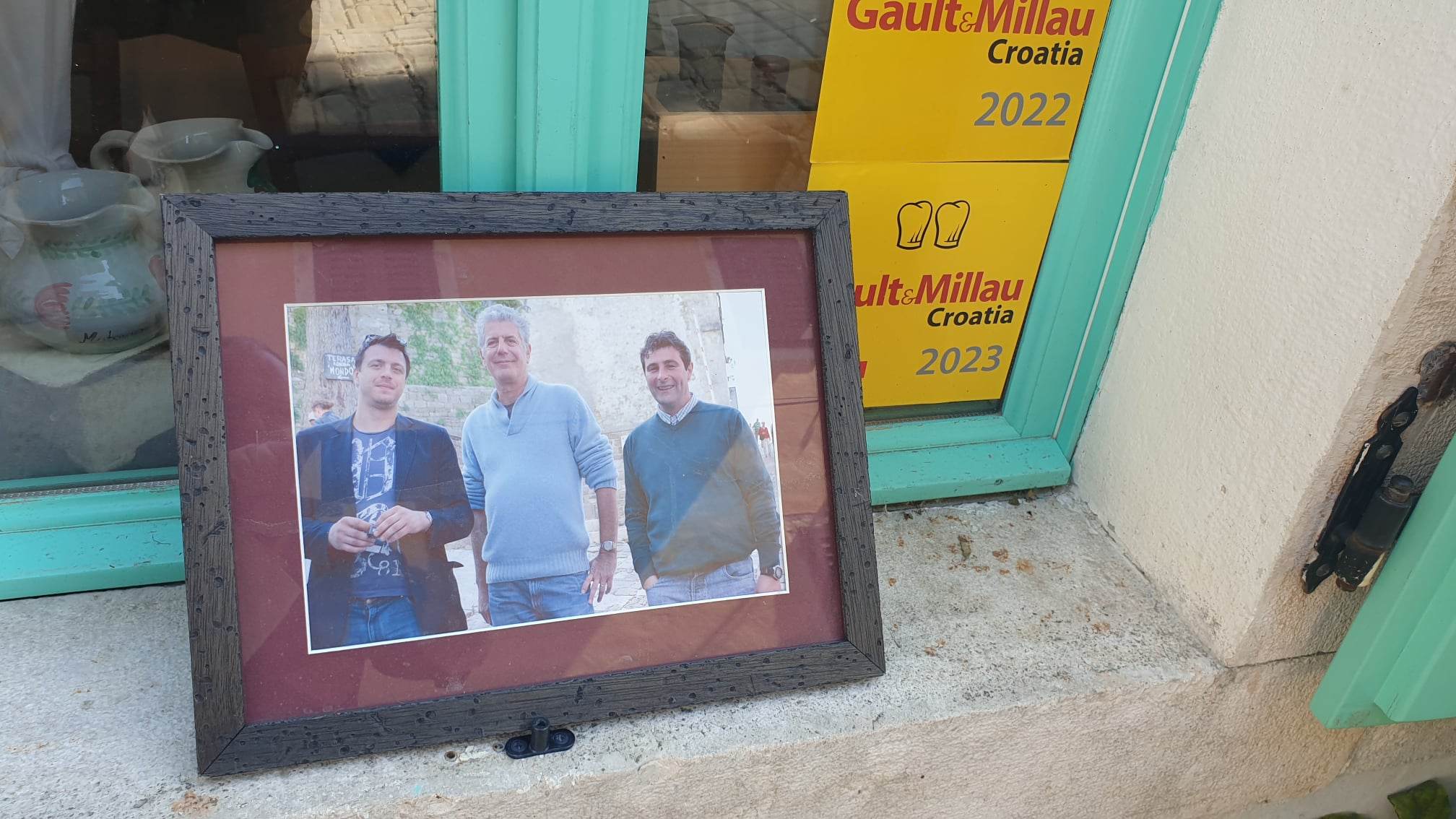 As I wandered through the delightful old town of Motovun, my guide pointed out a photo at a local restaurant of Anthony Bourdain, who had dined there on his famous No Reservations visit back in around 2011. It seemed somehow apt that he too had come to discover a region about which he knew nothing but left waxing lyrical.
Inland Istria is a phenomenal experience and a showcase example on how to work with what you have to develop a destination. An example of how a coordinated vision and the passion of individual visionaries working in tandem can produce stunning results.
As a Dalmatian boy, colour me impressed.
(Paul Bradbury visited inland Istria in May, 2023, as a guest of the Istrian Tourist Board.)
****
You can subscribe to the Paul Bradbury Croatia Expert YouTube channel here.
What is it like to live in Croatia? An expat for 20 years, you can follow my series, 20 Ways Croatia Changed Me in 20 Years, starting at the beginning - Business and Dalmatia.
Follow Paul Bradbury on LinkedIn.
Croatia, a Survival Kit for Foreigners is now available on Amazon in paperback and on Kindle.