With its 44 terminals, Zagreb bus station is the biggest in Croatia. It is located close to the main square in Zagreb, which is only 5 stops away if you take the No. 6 tram (direction Sopot if you're going from the Square to the bus station, or direction Črnomerec if you're going from the bus station towards the Square).
The building is very well equipped – you can find bakeries, fast food places, cafés and various shops on the ground floor, whereas ticket office, information centre, waiting area, ATMs, a post office (7:00 - 20:00, Sat 8:00 - 13:00, closed Sun) and a currency exchange (6:15 - 21:30, Sun 7:00 - 21:30) are located on the top floor.
There are two toilets, one on the ground floor, next to the Cloak room on the arrival platform, and the other one behind the ticket office on the top floor. The use of the toilet costs 3 kn.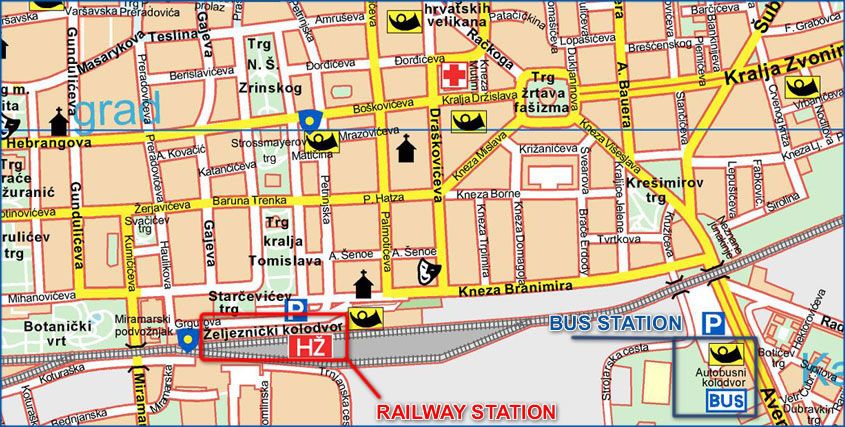 There are various options when buying tickets: you can buy tickets online and print them, make a phone reservation and pick up your ticket up to 30 min before your departure (this costs 12 kn), or buy them at one of the 15 ticket booths on the top floor. Some of them accept cash payment only, so check the signs on the desks if you want to pay by card. You can find the link for buying tickets online here. Another very useful website for information and buying tickets online is Bus Croatia.
Left luggage office (Cloak room, or garderoba in Croatian) is located next to the arrival terminal No. 106. It is open 6:00 – 22:00 and you need to show a valid ID when you leave your luggage. The price for one piece of luggage is 5 kn/h (up to 4 hours, after which time it's 2.5 kn/h), but if it your bag weighs more than 40 kg it's 10 kn/h.
There is a large guarded parking space in the northern part of the bus station (the entrance is from Drzic Street, or Držićeva ulica in Croatian). It is open 24 hours a days, 7 days a week. The cost of parking per hour is 7 kn, while a daily ticket costs 84 kn.
There are numerous daily connections to all bigger (and smaller) cities in Croatia. The highway connects all major cities, but it is paid, so not all buses take it. Basically, you have two options: the faster and more expensive buses that travel via the highway, or the slower and cheaper buses which don't. Based on your preference, you can choose one option or the other when buying tickets, simply ask at the ticket office or check the route if you're buying online. The prices are sometimes lower if you book in advance, so check beforehand. In any case, make sure to book in advance during summer months, because there are a lot of tourists and the seats sell out quickly. There is a considerable discount if you buy a return ticket with the same bus operator, so keep that in mind if you're coming back to Zagreb after your travels.
You can find some of the possible connections below.
Domestic routes
Zagreb – Rijeka
The two cities are relatively close to one another and extremely well connected, with more than 25 buses daily. Travel time is between 1.5 and 3 hours, and the cost is 50-120 kn.
Zagreb – Pula
The distance is greater than with Rijeka, but there are still around 20 buses daily. Travel time is between 4 and 6 hours, and the cost is 60-150 kn.
Zagreb – Zadar
There are many buses to choose from, and travel time is between 3.5 and 5 hours. The price is 80-120 kn.
Zagreb – Split
There are more than 20 buses daily connecting the two biggest cities in Croatia. Travel time is between 4.5 and 8 hours, while the ticket cost is 90-170 kn.
Zagreb – Osijek
There are only two daily buses connecting Zagreb and Osijek. The bus ride takes 4 hours and costs 120 kn.
Zagreb – Dubrovnik
There are about 10 daily buses from Zagreb to Dubrovnik, but because Dubrovnik is 600 km away, the bus drive takes 10-12 hours. The prices are 180-240 kn.
International routes
Zagreb – Ljubljana
Several cheap daily buses connect the two capitals. You can get to Ljubljana in 2.5-3 hours, for 30-80 kn.
Zagreb – Budapest
There is one bus a day connecting Zagreb and Budapest, travel time is a little under 5 hours and the cost is 240 kn.
Zagreb – Belgrade
You can get from Belgrade to Zagreb for 220 kn in about 5-6 hours and there are 5 bus lines a day.
Zagreb – Sarajevo
There are a few buses a day for Sarajevo, but there is (mostly) no highway, so it takes 8 hours to get there. The price is 180-190 kn.
Zagreb – Vienna
The two cities are well connected, with 6 daily lines which can get you from Zagreb to Vienna in about 5 hours and for a price of 200-250 kn.
Zagreb – Trieste
Trieste is your hub if you want to get to other Italian cities such as Venice or Milan. Getting there from Zagreb costs 60-100 kn and it takes around 4 hours.
The address of the bus station is
4 Marin Drzic Avenue (Aenija Marina Držića 4)
10 000 Zagreb
CROATIA
If you're calling from Croatia, the number is 060 313 333, while the number for international calls is +385 1 6112 789.
You can also send an e-mail to: This email address is being protected from spambots. You need JavaScript enabled to view it.