Even though Zagreb might seem like a concrete jungle when you first come to Ban Jelačić Square, the Croatian capital is actually filled with parks and green spaces. In addition o various parks on the outskirts, there are also parks around the centre, most notably the ones that are part of the Green Horseshoe, a U-shaped system of parks and squares in the Lower City. These are ideal for escaping the crowd and relaxing in the sun, especially in springtime and autumn, but they are also refreshing oases in the summer and magical during wintertime when Christmas markets take place there.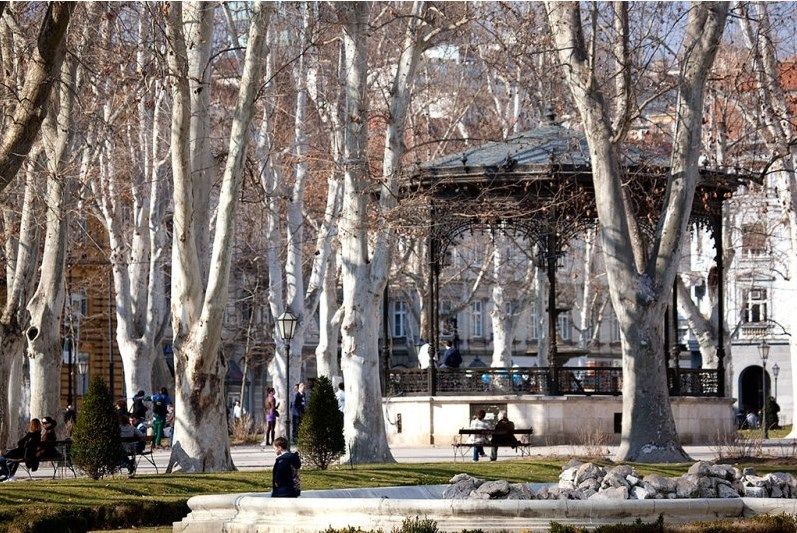 (Photo credit www.infozagreb.hr)
1. Zrinjevac
Just a few minutes away from Ban Jelačić Square there's a park which covers an impressive 12,500 m². Filled with flowers, trees, and fountains, this is a perfect place to relax and enjoy the sunshine, and because it has a musical pavilion in the middle, there are always concerts and festival in the park. It looks like a fairytale during Christmastime because there's a Christmas market here.
This park is the oldest Green Horseshoe park, dating back to 1860. The park is interesting for art lovers as well - there are various busts of famous Croats in it, and there are two famous institutions next to it: the Croatian Academy of Sciences and Arts and the Archaeological Museum. The Meteorological Pole on the north side of the park, dating back to 1884, still gives you information on various meteorological phenomena.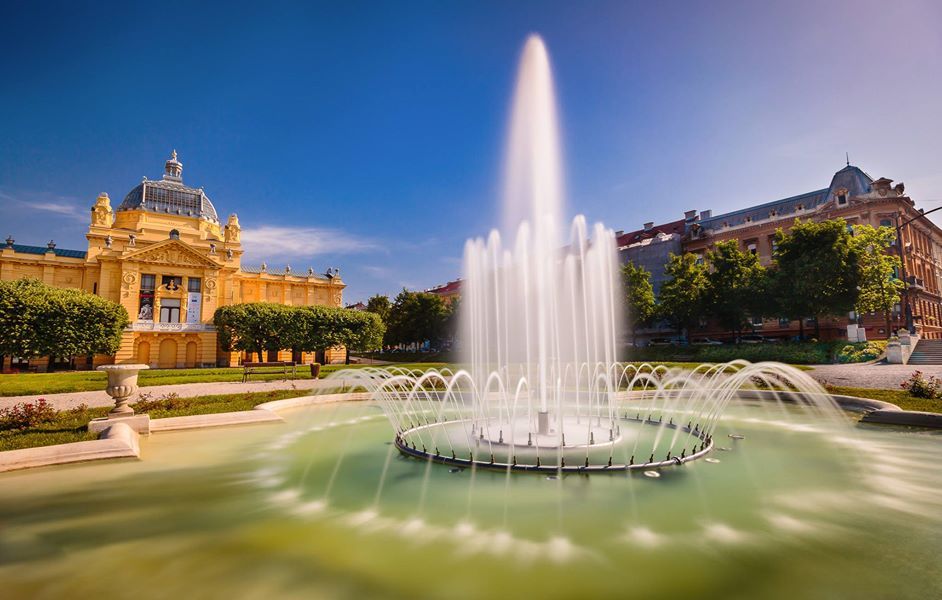 (Photo credit www.niveto.hr)
2. Trg kralja Tomislava (King Tomislav Square)
If you wander south from the Main Square, you will first reach Zrinjevac, and then, a few minutes later, King Tomislav Square, popularly called Tomislavac. The park is located between two important buildings: the Art Pavillion and the Main Railway Station. The grass, benches, and shades of the trees here are particularly popular in springtime, when you can see students studying here, people playing various sports on the grass, or having picnics and relaxing.
It's even more charming during Christmastime, when it turns into the city's biggest ice-skating rink, so when you skate, you become a character in a magical winter tale.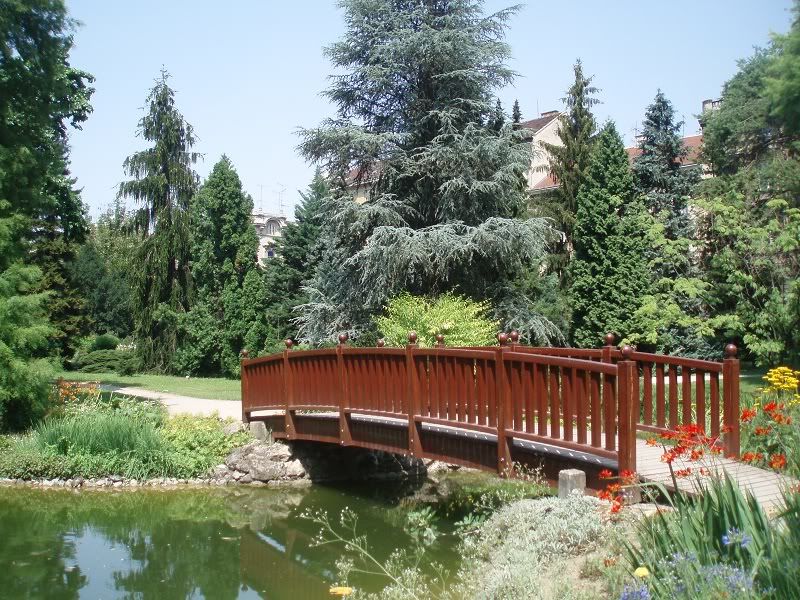 (Photo credit www.haoss.org)
3. Botanical Garden
If you want to escape the city and learn something at the same time, then the Botanical Garden is the place for you. It's been home to over 10,000 plant species for more than 125 years. With many benches, a pond with a bridge over it, and a gazebo, the Botanical Garden is a true oasis of tranquillity in the centre of Zagreb.
You can find out more about the Garden and its plants here.
The Garden is open to the public from 1 April till 1 November (also during fair spring and autumn weather in March and November), on all holidays except Assumption day (15 August), All Saints' Day (1 November) and Easter. The Garden is closed during winter, and also during the rest of the year in case of extreme weather. The entrance is free of charge
Opening hours
Mon –Tue: 9 a.m. – 2:30 p.m.
Wed – Sun: 9 a.m. – 7 p.m. (6 p.m. in early March and late October, otherwise 5 p.m. in March and 4 p.m. in November)
The Exhibition pavilion (May-October)
Wed – Sun: 12 p.m. (5 p.m. in March and October)
Mon – Tue: 9 a.m. – 2:30 p.m.
Wed – Sun: 9 a.m. – 7 p.m. (6 p.m. in March and October)
Phone: +385 (0)1 4898 060 (Mon – Fri: 11 a.m. – 2 p.m.)
Email: This email address is being protected from spambots. You need JavaScript enabled to view it.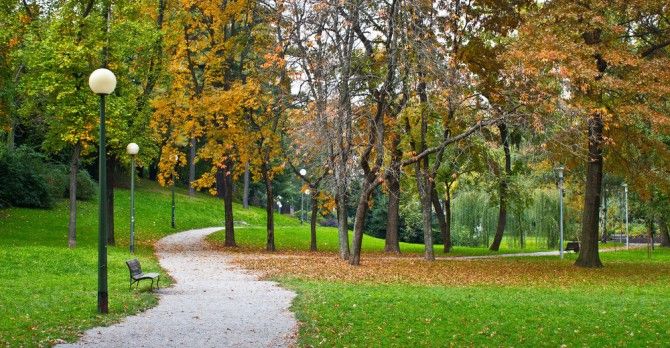 (Photo credit https://hotel-dubrovnik.hr/attractions/zagreb-a-green-oasis)
4. Ribnjak
This park next to the Cathedral used to be an artificial fishpond (ribnjak actually means fishpond in Croatian) where the bishop would fish for his Friday dinner. It was turned into an English park with water fountains and walkways in the 19th ct, but it wasn't used much until its renovation in 1964.
Nowadays it's a great place for relaxation and walks, and it's also very popular with young people because a cult rock and blues club formerly known as Purgeraj, which goes by the name Rock Club Ribnjak now, is located here.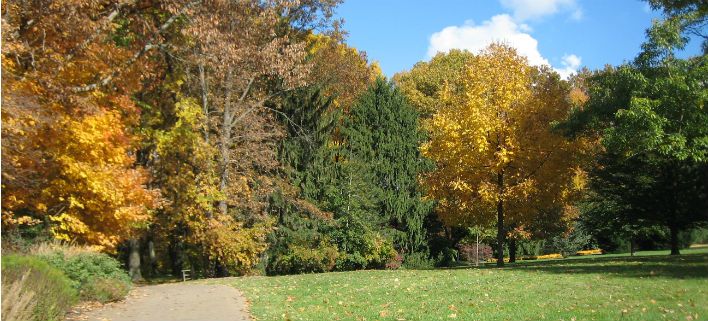 (Photo credit http://hupzagreb.com/blog/na-brezuljku-koji-spaja-donji-i-gornji-grad-pronaci-cete-najmirnije-mjesto-u-zagrebu)
5. Rokov perivoj
This poetic park on top of a hill is a charming little getaway, a place to slow down and think away from the noise and the crowds. As soon as you step on the grass here, you can see the inspiration oozing from its every corner, so it's no surprise that many famous Croatian artists lived here throughout the years. The park is named after Saint Roch, who was invoked to protect the city against plague, and the chapel in the park is named after him.
6. Maksimir
Every city has a park which is almost synonymous with it, and in Zagreb that park is Makismir, the oldest public park in South-Eastern Europe. It was opened in 1794 and it's still one of the most popular weekend destinations for people of Zagreb. It covers more than 1,000 acres and it includes big meadows, several creeks, five lakes, and it's also home to various animal and plant species. Zagreb ZOO is located within the park's territory.
There are several significant buildings within the park as well, such as the Swiss House, a belvedere kiosk, St. George's Chapel, and mogila – a mound made in 1925 from the soil and rocks brought from every settlement and historic place where Croatians had lived throughout history, in honour of 1,000 year anniversary of the Kingdom of Croatia.
www.park-maksimir.hr/Maksimir_en/Maksimir_EN.htm
(Photo credit www.hotel-dubrovnik.hr)
7. Mirogoj
Even though some people might think you're crazy if you say that a cemetery is a park, the "Croatian Pantheon" is no ordinary cemetery. The construction of monumental cupolas, arcades, and the church lasted more than 30 years (1879-1929), so the cemetery is now a beautiful park and an art gallery as well, because it contains sculptures by famous Croatian artists, and the sprawling grounds are the final resting place of members of all faiths.
The cemetery is especially spectacular in autumn when the outer wall is covered in beautiful leaves that change colours daily.
Opening hours
April 1 – October 30: 6 a.m. – 8 p.m.
November 1 – March 30: 7:30 a.m. – 6 p.m.